Primary Media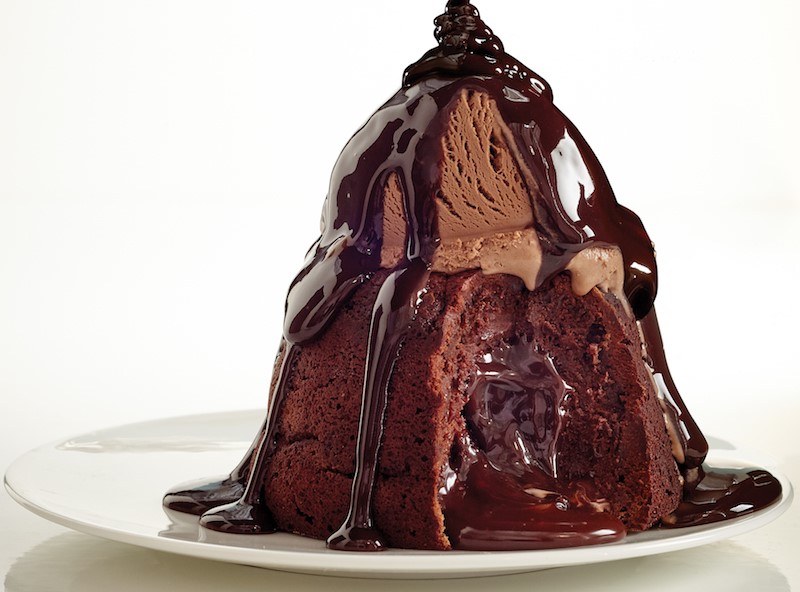 Description
Dark chocolate, milk chocolate, white chocolate, melted chocolate, shaved chocolate—we'll have it all. 
Mini Chocolate-Covered Marshmallow Cupcakes

What can you do with a box of cake mix and a jar of marshmallow creme? The answer is this mini chocolate marshmallow-topped cupcake recipe—which is worth every step. And if you look closely at the picture, you'll notice the extra layer of sweet, sweet caramel sauce. Definitely don't skip that step.

Double-Chocolate Berry Tart

This impressive-looking tart uses a homemade pastry dough, but it's a very forgiving dough. In fact, don't worry if it tears while you're putting in the pan; just press it back together. We promise it will be ok. 

Liqueur Chocolate Buttercream Frosting

There's nothing wrong with saving time by using a chocolate cake box mix to make cupcakes. And there's nothing wrong with adding a little booze to your frosting.

Chocolate Truffle Tart

Chocolate Walnut Brownies

If you don't have a go-to brownie recipe yet, this simple homemade version uses a few pantry-friendly ingredients and yields chocolatey brownies that are chewy, fudgy, and rich—everything you could ask for in a brownie.

Double Chocolate Cake

If you've never made a chocolate cake from scratch, start with this recipe and never look back. As long as you can mix things and melt stuff, you can't go wrong. For a more pronounced chocolate flavor, we used Ghirardelli unsweetened cocoa powder, but any unsweetened cocoa powder should do. 

Bittersweet Chocolate Bourbon Balls

Only seven ingredients and you're set to make a batch of homemade bourbon balls—the perfect way to end a meal. Try coating them in a variety of toppings, like crushed nuts, crushed cookies, even candied ginger. 

Coffee Cream Chocolate Tart

If there's coffee in it, we're eating it for breakfast. Oh wait, it's coffee liqueur... better wait 'til after dinner. Also, this is the easiest tart crust we've ever made. 

Nanaimo Bars

Nanaimo bars have a signature shine to chocolate coating, the top of 3-layered perfection. We like shiny things...

Chocolate Buttercream Layer Cake

This one's a bit of a weekend project, but way better than, say, building a fence. Especially since this project ends with homemade chocolate layer cake. 

Peanut Butter Chocolate Tart

Chocolate and peanut butter, if that combo doesn't melt your heart, this is not the tart for you. Also acceptable in this dessert would be creamy almond butter.

Torta Caprese with Marbled Raspberry Cream

This is the kind of dessert that's worth investing in a couple of special ingredients: orange liqueur and raspberry syrup—the latter is for the marbled raspberry cream that makes this torta so memorable.  

Chocolate-Dipped Coconut Macaroons

The easiest coconut macaroons you'll ever make, this 7-ingredient recipe is great to have around for special celebrations.

Triple Cocoa Martini

If drinking dessert is more your speed, this creamy, chocolatey Godiva martini has your name on it. 

Easiest Molten Chocolate Cakes

Most people are surprised to learn how easy these lava cakes are to make. The trick is to slightly under-bake them, giving you the oozy "lava" chocolate center.

Microwave Chocolate Fondue

If you've ever bitten into a piece of fruit, a cookie, or a pretzel and thought, "That would better if it was dipped in chocolate," then this is the recipe you've been waiting for all your chocolate-craving life. 

Chocolate Truffles

Turns out it's way cheaper to make truffles at home, and might even be more appreciated by whomever you give them to. And guess what? They only need 4 things. 

Chocolate-Drizzled Caramel Corn

Next time someone gives you a bag or tin of caramel corn, remember to add melted chocolate and peanuts and a sprinkling of salt. Trust us, it's a way better movie snack. 

Gluten-Free Banana Upside-Down Cake

We were surprised to discover that gluten-free chocolate cake mix tastes fantastic. Especially when you flip it into an upside-down cake with bananas and brown sugar.

Gluten-Free Chocolate Waffles

Using the same gluten-free chocolate cake mix—it's that good—we made chocolate waffles in the waffle iron. That means we can eat cake for breakfast.

Gluten-Free Red Wine Donuts

When red wine and chocolate come in the form of a glazed donut, everything feels right in the world. 

Gluten-Free Chocolate-Raspberry Snack Cakes

This from-scratch gluten-free treat can be eaten more like a breakfast muffin than a dessert cupcake. That's because it's made with vanilla Greek yogurt, applesauce, and egg whites. Fortunately, it's still sweet and delicious.  

Maple-Chocolate Creme Brulee

The best part about ordering creme brulee is cracking into the caramelized sugar crust to get to the creamy custard filling. This one is no different. Only you can make it at home using just 7 ingredients. 

Chocolate-Peanut Butter Bites

This truffle-like candy is made with peanut butter, heavy cream, chopped chocolate, and butter. That's it. 

Flourless Chocolate Cake

Turn out, when you take the flour out of cake, you're left with an intense chocolate flavor and torte-like texture that makes you swoon with every bite. 

Super-Moist Chocolate Mayo Cake

You cakes will never turn out dry again, as long as you use this simple trick. If using a box cake mix, add a cup of mayo instead of oil, along with 3 eggs and a cup of water. You'll see...

Chocolate Ice Cream

If you've got an ice cream maker you haven't used in a while, dust it off. It's time to make homemade chocolate ice cream with this super-easy recipe. 

Chocolate Chip Cheesecake

This easy cheesecake recipe is a fun one to make with kids. The hardest part it letting it chill for 4 hours in the fridge. Good luck with that.

Triple-Chocolate Crinkle Cookies

Anything that says triple chocolate in the title is a friend of ours. We also happen to love how these cookies get crispy on the outside and stay chewy and chocolatey on the inside. Note: These cookies are best when you make the dough a day in advance and let it chill in the fridge. 

Chocolate Mint Truffles

Most truffle recipes call for melted chocolate, but there's no reason you can't use flavored chocolate, like say, mint. 

Dark Chocolate Cupcakes

Chocolate Sauce

Bust out the strawberries, graham crackers, shortbread, pretzels, nuts and anything you can dip in chocolate.