Entertaining
21 Best-Loved Appetizers You Can Make in Less Than 30 Minutes
Primary Media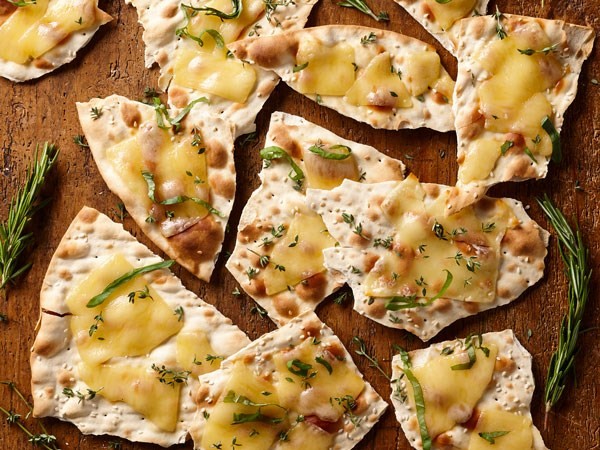 Description
You no longer have to rack your brain for an appetizer that's easy, crowd-friendly, and ready in under 30 minutes. We've rounded up our best-loved list for quick party appetizer recipes. 
Beer Steamed Mussels

People often forget how easy mussels are to make. They literally cook in minutes and can be seasoned with all kinds of spices and sauces, even beer. 

Artisan Cheese Crisps

This one's for the cheese lovers, which is basically everyone.

Deep Fried Beer Batter Cheese Curds

There's not a single word in the title of this recipe that we don't like. We suspect your guests will feel the same way. 

Air Fried Tempura Pickles

Get yourself and Air Fryer and start making your favorite bar appetizers healthier ... and at home. 

Roasted Garlic Yogurt Everything Sauce

For chips, meatballs, pita bread, breadsticks, vegetables ... it's the Everything Sauce that doubles as an amazing garlicky dip for all of the above and more.

Mozzarella Cheese Bombs

Biscuits stuffed with fresh mozzarella and salami. Need we say more?

Havarti and Herb Lahvosh

Ok, so this may not be the most common appetizer, but it should be. It's a simple combination of cheese and herbs on lahvosh—a large, thin, easy-to-tear flatbread.

10-Minute Nachos

Fully loaded nachos in just 10 minutes. We love that it's easy to make more batches as needed.

Tailgate Sliders

These are the little ham and cheese pull-apart sandwiches that, no matter what, always taste better than you remember. 

Shrimp Cocktail Party Skewers

Three ingredients and no cooking needed. All you do is assemble the shrimp and andouille sausage. 

Holiday Cheese Trees

If it's not the holidays, just call them trees. No one will care because they're cute and delicious. 

Buffalo Cauliflower Wings

A great vegetarian options for fans of buffalo sauce, cauliflower "wings" have become a new favorite way to eat veggies.

Artichoke King Crab Dip

Make sure you have plenty of bread or crackers for this... people will be scraping the corners of the dish for every last bite. 

Maple-Topped Brie with Berries and Pecans

Impressive and super simple, there are few things as crowd pleasing as warm baked brie on a cracker. 

Buffalo Chicken Skewers with Bleu Cheese Dip

If you're looking for a new way to serve buffalo chicken, you've found it ... in skewer form. 

Twisted Breadsticks

Some appetizers are as simple as putting a twist on store-bought bread dough and sprinkling them with Parmesan. 

Classic Sliders

This one made the list because the best appetizers are basically the best entrees, only smaller. 

Greek 6-Layer Dip

It's like 7-layer dip only less work. 

Parmesan Penne Cups

For the people that love pasta but have the self-control to only eat a little, these bite-sized penne cups are just the right fit. 

No Bake Spinach Artichoke Dip

It's the dip you love, but no baking required. 

Wonton Taco Bites

We promise if you make these for a party, there will be none left. It's the kind of appetizer guests will be tempted to make a meal of.