Food Love
10 Must-Try Appetizers and Snacks You Can Make in an Air Fryer
Primary Media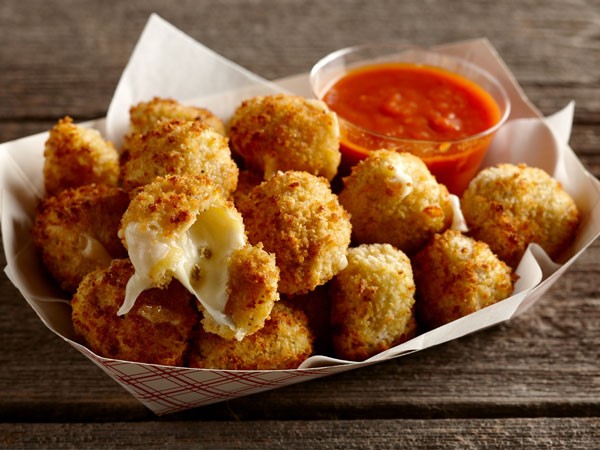 Description
No more soggy or sad fried food. These easy air fryer recipes turn out perfect every time. That includes our favorite: Air Fried Cheese Curds.
You can also shop Crav'n treats to put in the air fryer on Aisles Online!
Air Fried Tempura Pickles

Bar food gone healthy, using an air fryer to make crispy fried pickles saves you the hassle and mess of pan frying in oil. We used whole baby pickles for this recipe, but you could also cut larger pickles into thick coins.

Did you know air-frying your food is a healthier choice to traditional frying? It uses minimal to no oil to fry foods, which can reduce your overall calorie intake.

Air Fried Chicken Nuggets

You can heat frozen chicken nuggets in the oven... OR, you can get them extra crispy in the air fryer. 

Added bonus: Air fryers cook food more quickly than an oven or toaster oven.

Air Fried Bacon-Wrapped Shrimp

Two ingredients and an air fryer. We got 24 crispy bacon-wrapped shrimp out of one batch. 

You can use an air fryer to cook, bake, or fry just about any food, including meats and vegetables. Hint: Picky eaters may like the crispiness of vegetables cooked in an air fryer!

Air Fried Cheese Curds

Batter up! Give cheese curds a dip in flour, then eggs, then panko, and repeat for an extra-crunchy coating. Then let the air fryer do it's thing. In less than 5 minutes you'll be biting into crispy, melty fried cheese curds.

Air fryers are super easy to use. Simply turn it on, wait a few minutes to reach temperature, and add food. Shake the food in the basket a few times for it to cook through.

Air Fried Brussels Sprouts

Never eat sad, soggy Brussels sprouts again. The air fryer won't let this happen to you.

Did you know air fryers use less energy than a conventional oven? Plus, they won't heat up your house. So cooking with an air fryer is actually more cost effective!

Air Fried Meatballs

From frozen to party-ready in 15 minutes, the air fryer cooks a mean meatball. 

One of our favorite features of air fryers: They don't take up a lot of space. Bake, fry, and roast all in one appliance that fits on your countertop.

Parmesan-Garlic Zucchini Fries with Harissa Aioli

No-guilt fries? Yes, please! These are our new go-to for an easy side dish or party snack.

Air fryers are super easy to clean. Both the inner pan and basket are removable for quick cleanup.

Bacon Mac 'n' Cheese Balls

One of our favorite bar food appetizers can now be made at home.

Air fryers also have large-capacity baskets with room for a family-size (or party-size) amount of food.

Raspberry-Filled Turnovers

Yes, you can make dessert in your air fryer too!

Your air fryer will have a convenient built-in timer to ensure perfectly cooked turnovers, cheese curds, veggies, and more.

Air-Fried Asian Sticky Chicken

Culinary Tours orange sauce helps create the sticky coating on these tasty chicken bites.

A safety feature of air fryers we love: The auto shut-off! The fryer will automatically turn off when the basket is removed.