Primary Media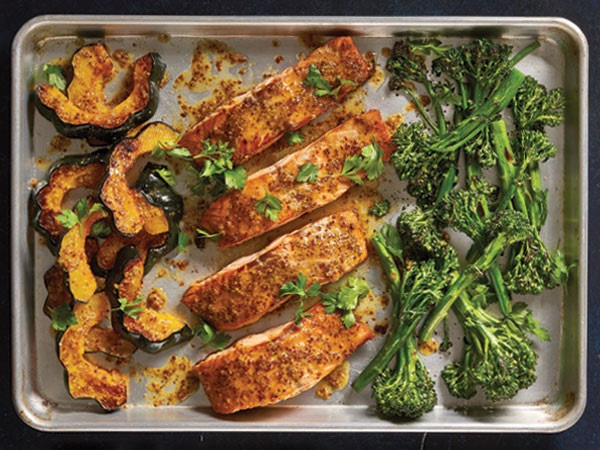 Description
When it's too cold to fire up the grill, we turn to the oven and air fryer to cook salmon—perfectly. Use these recipes to get just the right flake on your fillet.
And if it's really cold, remember, you can always shop online for pickup or delivery.
Citrus Baked Salmon

For a 2-lb salmon fillet, plan on roasting at 425 degrees F for about 20 to 25 minutes. If you're ever in doubt about how to season it, reach for a combination of citrus. Here we use lime, lemon, and blood orange slices to get a zesty mix of sweet-tart flavors.

Hyvee Culinary Expert Tip

When the fish is done, it should flake easily with a fork. You can also use a meat thermometer to make sure the internal temp of the thickest part is 145 degrees F.

Blackened Harissa-Spiced Salmon Wrap

For blackened salmon, it's best to pat the filet dry, then add a small amount of oil before rubbing the seasoning on both sides of the salmon. Here we used harissa, a hot chili spice blend that gives salmon a kick of heat. Then we sear the salmon in a cast iron and finish it in the oven.

Maple-Mustard Salmon

When doing a sheet pan dinner with salmon, it's best to give vegetables that take longer to cook a head start in the oven. This gives you time to whisk together a tasty glaze to brush over the salmon.

Air Fryer Asian Salmon Salad Bowl

Two 4- to 6-ounce salmon fillets fit nicely in an air fryer basket. It should only take about 7 to 10 minutes to get fillets that are crispy on the outside and flaky and tender on the inside. Because an air fryer works like a convection oven, there's no need to turn the fish halfway through.

Hyvee Culinary Expert Tip

Cold Chilean waters give omega-3-rich Verlasso salmon their clean, delicate flavor and buttery texture—just right for baking or air frying.

Cherry-Adobo Salmon with Roasted Slaw

You can also do a whole 2-lb fillet on a sheet pan in the oven. This one gets it flavor and texture from the cherry-tomato sauce piled on top and cooks along with cabbage and sweet potato veggie noodles. To get a nice crispy skin, place the salmon under the broiler for about 5 minutes after it roasts.

Teriyaki Salmon with Roasted Pineapple and Veggies

Here, the teriyaki sauce that's brushed over the salmon before it cooks helps gives the fish a slightly caramelized exterior, while the inside remains tender and flaky. To keep dinnertime extra easy, use Hy-Vee Short Cut veggies that are pre-washed and preppped, preferably ones that cook in the same time as the salmon, such as asparagus and thinly sliced carrots.

Quick-Fix Salmon with Maple-Bourbon Glaze

When cooking a 1-lb fillet of salmon in the oven, pay attention to how thick the fillet is. If it's between 3/4 and 1-inch thick, it will probably cook in about 8 to 12 minutes in the oven. Because it will be ready in less than 15 minutes, we like to spend a few minutes beforehand preparing a really delicious glaze to drape over the salmon before it cooks.

Walnut Crusted Salmon Winter Salad

Yes, you can make a hearty salmon salad in the oven. Once again we give the starchy veggies a head start at a high temperature in the oven, then we make room for the salmon and let everything finish cooking together. But the real star of this dish is the from-scratch dressing.

Lemon Basil Marinated Salmon

Marinating salmon is a great way to impart flavor before roasting. Here we marinate the fillet in a combination of apple juice, oil, soy sauce, honey, lemon, basil, and garlic. Just remember not to marinate fish for too long. Acids in the marinade will start to break down the protein. About 30 minutes in the fridge is just right.