Primary Media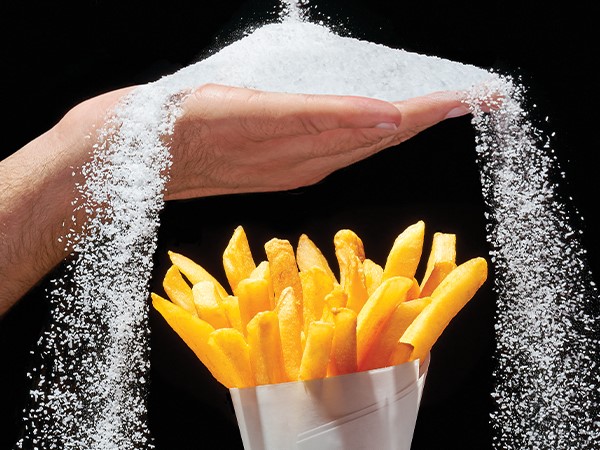 Description
Go easy with the salt shaker. Reach for these spices, herbs, and flavor enhancers to brighten or deepen the flavor of foods. Not only will you be doing your tastebuds a favor, but reducing your sodium intake can also reduce the risks for high blood pressure, heart disease, and stroke. 
Black Pepper

Flavor: Sharp, woody, piney; tastes best as freshly ground peppercorns.

Uses: Sparks flavor in nearly any savory dish; gives sharpness to dry rubs, spice blends, and salad dressings.

Paprika

Flavor: made from a variety of sweet red peppers. Usually mildly sweet; otherwise can be smoky or hot.

Uses: Soups, stews, roasted potatoes, deviled eggs, barbecue, chili, and Middle Eastern dishes.

Garlic Powder

Flavor: Made from dehydrated garlic, it's a bit sweeter than fresh garlic.

Uses: Dry rubs for meats; use on vegetables and in soups, stews, marinades, and salad dressings.

Chili Powder

Flavor: A blend, usually of cayenne pepper, cumin, paprika, and sometimes salt, with smoky flavor and mild to moderate heat. 

Uses: Chili, tacos, beef stew, and other hearty stews.

Cayenne

Flavor: Very hot and peppery; even small amounts add a bite to dishes.

Uses: Add to seasoning blends, such as jerk and chili powder blends, and to Caribbean Cajun, Mexican, and Thai recipes.

Cumin

Flavor: Sharp, earthy, and warm, with slight citrus overtone; key ingredient in curry powder and chili powder. 

Uses: Indian, Thai, Mexican, and Middle Eastern dishes. Good with lentils, rice, and vegetables. 

Onion Powder

Flavor: Dehydrated ground onions with no salt added (as opposed to onion salt).

Uses: All-Purpose powder for any dish enhanced by onions. Sprinkle on meats before cooking, add to sauces, soups, and stews.

Thyme

Flavor: Slightly sweet and aromatic, with tea-like or minty notes.

Uses: Tasty on poultry, potatoes, and other root vegetables and in soups. Often paired with oregano in Mediterranean dishes.

Lemon Pepper

Flavor: Both sharp and citrusy. Made from granulated lemon zest and cracked peppercorns. Some manufacturers add salt to the blend.

Uses: Seafood, chicken, pasta, and green beans.