Primary Media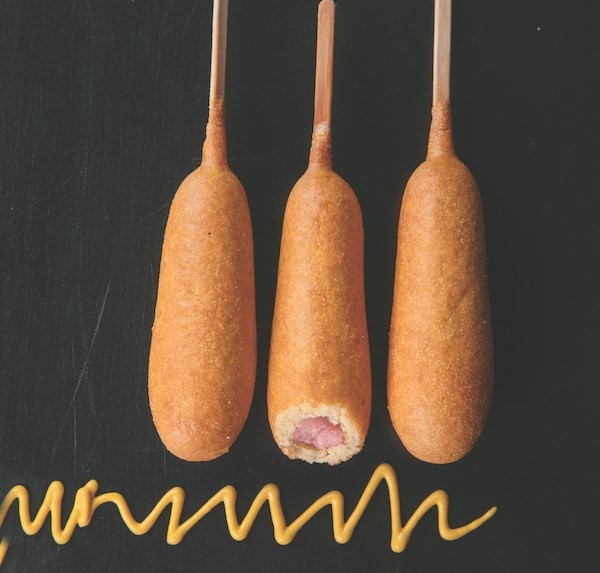 Description
We love going to the state fair for the food. And we love to make it at home ... on occasion. Just remember these recipes the next time you're in the mood for a little state fair flavor—whether it's battered, fried, and served on a stick or something sweet and outrageous, you'll find it here. 
Bacon Jalapeno Corn Dogs

A bacon corn dog would have been delicious. A jalapeno corn dog would also have been delicious. But why settle when you can have a Bacon Jalapeno Corn Dog? 

Berries N Cream Funnel Cake

They don't call them funnel cakes for nothing. Get out your kitchen funnel and let's fry some dough. If you don't have a funnel, that's ok. You can use a piping cake or a plastic freezer bag with the corner snipped off.

Brisket Poutine

We love that we can make this in one big batch using a bag of frozen crinkle fries and Hy-Vee Hickory brisket. 

Fried Pickles

Not just the coins, we're frying them by the spear. 

Pork Tenderloins

We might be biased, but State Fair Pork Tenderloins are the best state fair food. Did you know more than 90,000 servings of pork are sold at the Iowa State Fair? 

Chocolate-Covered Bacon

Don't knock it til you try it. You just might love the salty-sweet situation that happens when you dip crispy bacon in melted chocolate. 

Blue Ribbon Pizza Sticks

If you make these for dinner, you'll see why we gave them a blue ribbon. They've got all the flavor and texture of a saucy ooey-gooey pizza and are actually pretty simple to make. 

Donut Ice Cream Sandwiches

Because you can't talk about state fair food without the over-the-top novelty desserts, such as a grilled donut ice cream sandwich with all your favorite mix-ins.

Shaved Ice

All you need are juice, agave, and ice. Then this childhood favorite can be all yours. 

Deep Fried Beer Battered Cheese Curds

For those days when you just need something fried, it doesn't get much better than this.

Corn Dogs

When you're craving a classic, make this the go-to. With the help of Hy-Vee pancake mix, you only need five ingredients.

Chicken n Waffle Sticks

If you have mini waffles in the freezer, you can use those, but we actually prepared a can of biscuit dough in the waffle maker to make these chicken-biscuit bites. 

Fried Mac N Cheese

If you find yourself with leftover mac n cheese, remember this recipe. You really only need bread crumbs, an egg, some milk, and of course, frying oil. 

Crispy Fried Buffalo Wings

It's not what you think. Unless you were thinking about shredded rotisserie chicken, cheese, and buffalo sauce stuffed inside a wonton wrapper and deep fried.

Fried Bacon Cheddar Balls

Mini Fried Pies

It doesn't get any simpler than this. These little mini pies only require 4 ingredients.

Crunchy Street Corn

Who can resist this iconic fair food? Especially when it's rolled in crushed chips.

Beer Battered Brat Corn Dog

Here's an idea: Instead of using a hot dog to make corn dogs, use a brat. Hy-Vee has a variety of flavored brats in the meat case, both skinless and skin-on.  

Classic Lemonade

Don't let summer slip away without a homemade batch of sweet-tart lemonade to sip on. 

Sugared Sweet Potato Fries

Fries are always a good choice for sharing, but ... these are just too good. 

Maple Bacon Cannolis

Imagine a ricotta and mascarpone-stuffed cannoli dipped in chocolate chips and dusted with powdered sugar. Now imagine this: Instead of the cannoli shell, there's crispy bacon.