Food Love
11 State Fair Foods That Taste Better on a Stick
Primary Media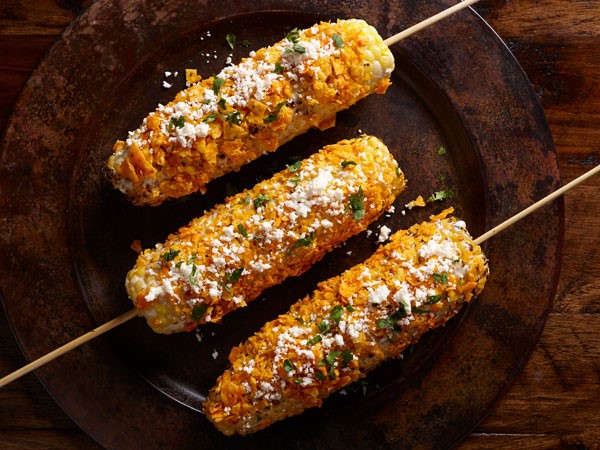 Description
Bring the state fair to you, no matter what time of the year! We're sharing recipes for top fair foods you can make at home. From Crunchy Street Corn to Deep-Fried Pineapple Upside Down Cake, we know you'll delight in each carnival creation. Step right up to a flavor-packed adventure!
Blue Ribbon Pizza Sticks

Pizza night takes on a new meaning when you wrap pizza dough around pepperoni and bell pepper skewers.

Fried Snickers

Whip out your candy bars, pancake mix and deep-fat fryer. We're showing you how to cook up Fried Snickers at home.

Chocolate-Covered Bacon

The only thing that could make chocolate-covered bacon taste more like fair food is to put it on a stick.

Crunchy Street Corn

Did you even go to the fair if you didn't eat street corn? If you missed your chance at the fair, make this crunchy recipe topped with crushed Doritos.

Chicken 'n' Waffle Sticks

Would you believe it if we said you only need three ingredients to make this easy take on chicken and waffles?

Tot Burger Bites

We didn't think it was possible, but we found a way to make burgers taste even better. Hint: it involves skewering pickles, tater tots, tomatoes and burger bites.

Deep-Fried Pineapple Upside Down Cake

Some people love Pineapple Upside Down Cake. If you do, just wait until you try it deep-fried and drizzled with cherry sauce.

Air-Fried Tempura Pickles on a Stick

Turn in the deep-fat fryer for an air fryer to make a crispy batch of Tempura Pickles.

 

Tater Puff BLT Sticks

Enjoy everything you love about BLTs on a stick! You'll love them even more when you add crispy potato puffs.

Chocolate Toffee Delight Brownie Pops

No baking or deep-fat frying is needed to make this truly delectable dessert. You'll feel like you're walking around the state fairgrounds! 

Bacon Jalapeño Corn Dogs

Corn dogs are a state fair staple — so we needed to share our deep-fat fried version made with bacon and jalapeños.