Primary Media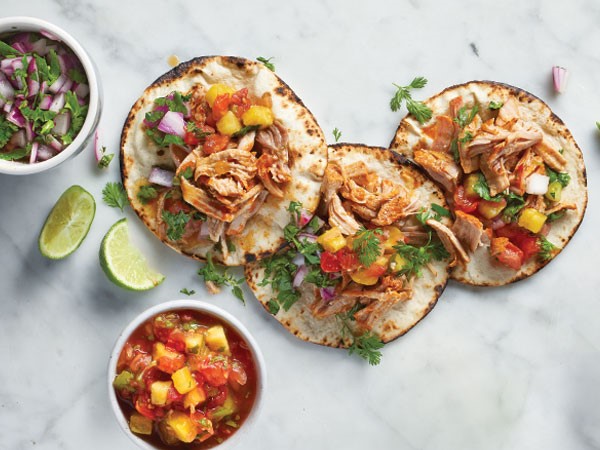 Description
This Cinco de Mayo, have a genuinely authentic celebration by trying some of our best Mexican recipes — and learn a little about these dishes and the holiday along the way!
Molé

Molé Poblano is the official dish of Cinco de Mayo because the day commemorates Mexico's victory over the French at the Battle of Puebla. Try our take on molé with our Molé Tilapia Tostadas recipe!

Chilaquiles

Chilaquiles were introduced to America in 1898, and they are commonly eaten for breakfast in Mexico. Kick off your Cinco de Mayo right with our Harissa Chilaquiles recipe.

Tamales

Tamales are one of the most iconic Mexican dishes ever and have been around since the dawn of civilization in the Americas. Historically, tamales were only eaten on holidays, making them the perfect meal for Cinco de Mayo.

Carnitas

Carnitas are also associated with festive occasions. Back when carnitas were first invented, it would take the effort of a whole community to make them! Our Instant Pot recipe cuts the cook time way down.

Barbacoa

Barbacoa traditionally refers to meats slow-roasted over an open fire. Each region of Mexico has its unique take on barbacoa, and it's yet another Mexican dish that is reserved for holidays. Try our recipe for Beef Barbacoa Bowls this Cinco de Mayo.

Fish Tacos

The quintessential fish taco was invented on the northwest coast of Mexico in the 50s and 60s, around the same time Cinco de Mayo was gaining popularity in the U.S. We have lots of fish taco recipes, but this is one of our favorites.

Horchata

Horchata is a drink featuring milk, vanilla and cinnamon flavors. While we most commonly associate it with Mexico, it's thought that ancient Egyptians might have invented this drink. Our recipe adds an adult kick of rum — perfect for celebrating.

Mexican Street Corn

Elotes, or Mexican Street Corn, is a popular street food and is often a go-to late-night snack in Mexico. Corn is a staple of Mexican cuisine, and our favorite recipe includes slathering it in sour cream, mayo, and cheese. Yum!

Pozole

Pozole is a cross between soup and stew and has existed since ancient Aztecs. The bright colors and delicious flavors are perfect for Cinco de Mayo.

Margaritas

Historically, not all people from Mexico could drink tequila because it was considered the nectar of the gods — only priests could consume it. But our recipe is yours to make! Forty-seven percent of all drinks ordered on Cinco de Mayo are margaritas.

Guacamole

According to the California Avocado Commission, eighty-seven million pounds of avocados are consumed on Cinco de Mayo. It's yet another dish we can thank the Aztecs for!