Primary Media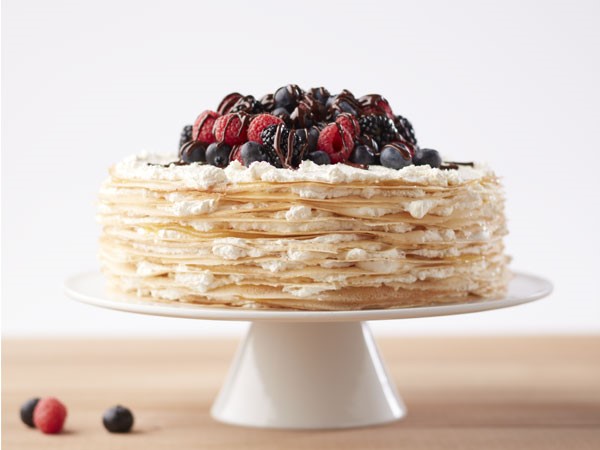 Description
We all know weddings aren't just about the wedding. There's the bridal shower, engagement party, bachelor/bachelorette party, and rehearsal dinner to worry about. Not to mention the day-after brunch! If you've pitched in to make dishes for a big bridal brunch, try one of these large-batch recipes to make things simple.
Sheet Pan Pancakes

20 pancakes in one pan. Genius! And you can customize the toppings.

Breakfast Egg Cups

Here's another recipe you can customize and whip up in no time.

Berry Crepe Cake

This delicate, elegant stack of crepes would be the perfect centerpiece at your brunch.

Peach and Blueberry Sheet Pan Pancakes

Believe it or not, Peach and Blueberry Sheet Pan Pancakes are ready to eat in just 30 minutes.

Boozy Bears

Add some fun to your brunch with these champagne- or wine-soaked gummy bears.

Bacon-and-Egg Hash Brown Cups

Yes, we love a good muffin tin recipe! Putting things in "cup" form just makes life so much easier.

Egg & Cheese Breakfast Ring

Here's one way to really wow your party guests and also feed them some healthy veggies!

Sheet Pan Omelets

This is a done-in-one recipe. That means you only need one pan. What a life saver!

Egg Bacon Cups

Aren't these Egg Bacon Cups gorgeous? And they're so easy to make.

Mixed-Fruit Sheet-Pan Pancakes

There's a surprise ingredient in this recipe—graham crackers!

Sheet Pan Ancho Steak and Eggs

Pack in the protein with a hearty breakfast favorite!

Ham and Cheese Pancake Bread Pudding

Ham and cheese: ✔️. Pancakes: ✔️. Bread pudding: ✔️.

Blueberry Pancake Mix Cinnamon Rolls with Lemon Icing

We bet you've never made cinnamon rolls using pancake mix before.

Ham and Cheese Strata

Smoky gouda, roasted bell peppers, tangy tomato pesto...we can't decide which part of this recipe is our favorite!

Sweet Potato and Egg Oven Bake

It looks great, and it feeds a hungry crowd. We're sold!

Egg Muffins

Also known as "mini frittatas," anything you can make several days ahead of time is going to be a game changer for you.

Cinnamon Apple Bread Pudding

This bread pudding would be perfect for fall events, but we can't help enjoying it in the spring, summer, and winter, too.

Cheesy Hash Brown Potatoes

Is it really brunch without hash brown casserole?

Tortillas Espanolas

Put a Spanish flair of flavor on your eggs.

Breakfast Nachos

Everyone loves nachos, so why not make them brunch-friendly?

Pumpkin Sweet Potato Breakfast Bake

Turns out chocolate chips taste delicious with pumpkins and sweet potatoes!

Sausage Egg-Bake Casserole

Loaded with so many delicious ingredients, we're confident your party guests will come back for seconds.

3-Ingredient Banana Bread

Perfect for a beginner baker or someone who's short on time, brunch doesn't get much easier than 3-Ingredient Banana Bread.

Fresh Mixed Berry Salad

Pretty much all you have to do for this salad is toss a bunch of berries together.

Mini Pancake Bites

Here's another customizable brunch recipe! Pancake bites taste great with raspberries, blueberries, or chocolate chips.

Monkey Bread Supreme

We've never met a monkey bread we didn't like.