Primary Media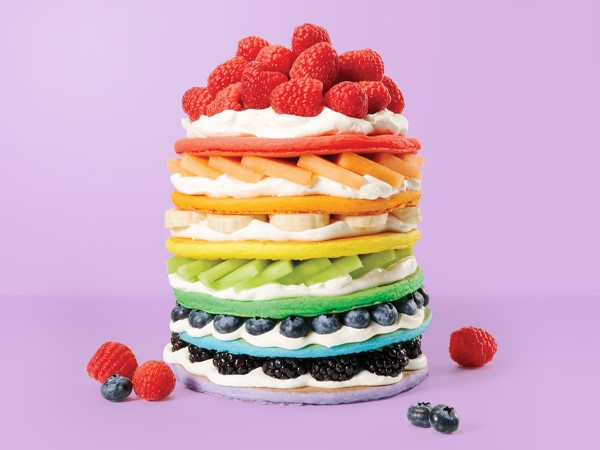 Description
Fresh berries make everything better. And, yes, that includes brunch! Use fresh strawberries, blueberries, blackberries, etc. to make delicious sides and mains that range from savory to sweet.
Waffle French Toast Sticks with Berry Compote

We can't decide what we like better: The fresh berry compote or the ease of the waffle French toast stick.

Rainbow Pancake Stack

Wow your brunch group with rainbow pancakes layered with fresh fruit and berries.

Blueberry Crumble

Could this be dessert? Yes. Could it be a delicious blueberry breakfast? Also, yes.

Cranberry Coffee Cake

Mmm. Coffee cake with cranberries and orange? A classic brunch staple for any time of the year.

Berry Lemonade

We love berry lemonades! For the kids, keep the recipe the same. For an adult version, add some Champagne or prosecco to make it fizzy and slightly alcoholic.

Lemon-Berry Granola Tarts

Why didn't we think of this sooner? Edible cups made out of granola, filled with a creamy yogurt mixture, and topped with fresh berries. We want to see this recipe at every brunch!

Berry-Granola Parfaits

Easy, pretty, and packed with fresh strawberries and raspberries. Make these parfaits in advance or set out all the ingredients for guests to make their own.

Better-For-You Blueberry Pancake Stack

Who doesn't want homemade blueberry pancakes for breakfast? (You don't even have to tell anyone that their better-for-you either!)

Lemon-Glazed Triple-Berry Streusel Bread

Three berries, lemon, and streusel. You've got to try this brunch-worthy quick bread!

Raspberry-Almond French Toast Bake

Make this raspberry and almond-packed French toast bake the night before and then wake up and bake. It doesn't get easier than that!

Blackberry Grilled Cheese

We would argue that grilled cheese is an acceptable brunch food. Especially if it has blackberries and brie!

Berry-Good Spiced Crepes

Strawberries and chocolate for brunch? If you say so!

Gluten-Free Strawberry-Orange Waffle Quarters

Just a little something for our Gluten-Free friends and family. Make sure you don't skip the strawberry-orange mascarpone topping!

Blueberry Pancake Breakfast Casserole

Step up your pancake game! Make pancakes and drizzle them with a homemade custard sauce and fresh blueberries. It's a great way to serve pancakes to a hungry crowd!

Buckwheat-Banana Waffles

Banana and blueberry waffles. We'll just leave you at that.

Mixed Berry Crostata

A crostada is an open-face free-form pie. We chose to stuff ours with blackberries and blueberries in an almond crust. It was a good decision.

Tropical Berry Fruit Cups

Our kid-friendly homemade fruit cups are a fun and easy brunch side that will have kids excited to eat their fruit!