Primary Media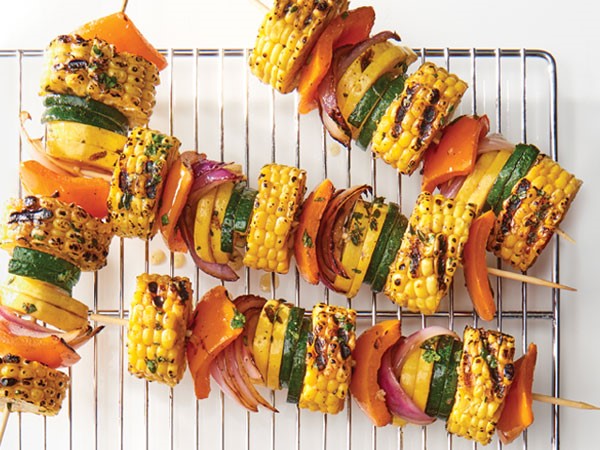 Description
You prepared the corn for us? Aw, shucks. That's right, Hy-Vee Short Cuts Sweet Corn is shucked, cleaned and just waiting to give you a taste of summer. 
Charred Sweet Corn

This recipe shows you three ways to take grilled corn to the next level. Grab the chili powder and lime juice. 

Veggie Kabobs

Round out your next cookout with a platter of corn kabobs. We make it easy with Hy-Vee Short Cuts Sweet Corn. Look for it in the produce aisle. 

Grilled Corn Salad

If you're going to buy corn in the husk, use it to your advantage by making a handle for grilling. After you pull it back, tie it with a string to hold it in place. 

Corn and Bacon Frittata

Besides steak, name one thing that goes great with corn. Bacon? Correct ... try this winning combo in a quick frittata. 

Shrimp and Corn Boil

Turns out, you don't need a giant stock pot of boiling water to feast on a shrimp and corn boil. Check out these easy foil packets for the grill.

Crunchy Street Corn

The trick here is to brush the corn with sour cream while it's still hot and roll it in crushed nacho-cheese chips. Bonus flavor points if you use Mexican-style cilantro-lime sour cream. 

Slow Cooker Corn Casserole

It's the same corn casserole you know and love—complete with corn muffin mix in it—only this recipe lets you dump it all in the slow cooker and forget it. 

Corn Cakes

This is the kind of recipe you have to try at least once this summer. Then you'll be hooked. 

Creamy Corn

The creaminess from this corn side dish is actually from a seasoned spreadable cheese. Think Boursin. 

Corn Souffle Casserole

Buttery, cheesy, eggy, and full of corn—this casserole is a Midwesterner's dream. We used Port du Salut cheese to melt on top, but any soft, mild cheese will work with this souffle-like casserole. 

Slow Cooker Spicy Corn Dip

Need to bring a dish? Bring this. 

Corn and Ale Cheese Dip

This is our go-to for Friday nights after a long week. Top it with rotisserie chicken and call it dinner. No shame. We do it all the time. 

Shrimp and Corn Chowder

Use fresh or frozen corn to make this easy chowder in just 15 minutes. Seriously, 15 minutes.