Primary Media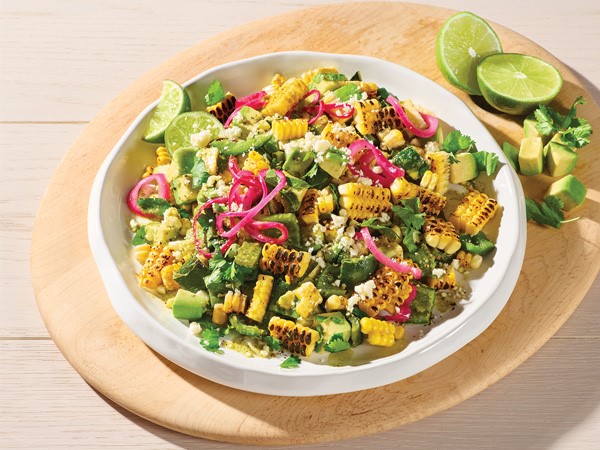 Description
Fresh sweet corn is a staple during the summer months, so we're sharing our favorite recipes to make while it's in season. From Corn Cakes and Fresh Corn and Tomato Salads to Chipotle Sweet Corn Ribs and more, we have a delicious recipe to enjoy whenever you're in the mood for sweet corn. You can even get creative by using it to make homemade ice cream!
When shopping for sweet corn at your local Hy-Vee, look for the Hy-Vee Homegrown label for corn grown in the Midwest within 200 miles of your store.
Avocado Corn Salad

Packed with sweet corn, avocado, lime and Cotija cheese, this fresh and tangy salad is the perfect summer side dish. 

Fresh Sweet Corn No-Churn Ice Cream

Did you know you can use fresh sweet corn to make homemade ice cream? It will become your new favorite dessert with only 25 minutes of prep time.

Sweet Corn Medley with Honey Mustard Pork Skewers

Only a few simple ingredients form this simple veggie side dish — corn, bell pepper, onion and seasonings.

Homegrown Sweet Corn BLT Salad

This 30-minute salad is crispy, crunchy and completely delicious. Serve as a flavorful summer side dish or entrée.

Chipotle Sweet Corn Ribs

Crispy on the outside with the juicy flavor of corn on the inside, sweet and sticky Chipotle Sweet Corn Ribs will become your new favorite plant-based summer staple.

Sweet Corn and Avocado Toast

We didn't think avocado toast could get any better, but then we topped it with grilled sweet corn. 

Corn Cakes

Also known as Corn Fritters, these Corn Cakes are pan-fried to crispy perfection and topped with a spoonful of garlic aioli.

Creamy Corn

If you're short on time, easily mix up a bowl of this creamy version of Corn and Tomato Salad. 

Crunchy Street Corn

Mexican-style street corn is already delicious — but trust us when we suggest coating it with crushed Doritos before topping it with Cotija cheese and cilantro.

Chili-Lime Grilled Corn

Take grilled sweet corn to the next level by drizzling each ear with a homemade chili-lime sauce. 

Fresh Corn and Tomato Salad

Basil, tomatoes and sweet corn combine in this classic Fresh Corn and Tomato Salad for garden-fresh flavor in every bite. 

Spicy Hoisin-Glazed Grilled Corn

Give classic sweet corn an Asian-inspired twist by coating it with a homemade glaze of hoisin sauce, honey, orange juice and soy sauce. Top with crushed red pepper flakes for an added kick.

Truffle-Parmesan Grilled Corn

An easy way to elevate grilled sweet corn is with a drizzle of truffle oil and sprinkle of Parmesan cheese. Yum!