Vegan & Vegetarian

Vegan or Vegetarian?
A vegan is someone who does not eat or use animal products, including meat, dairy, eggs, honey, etc. A vegetarian is someone who does not eat meat, but may include dairy, eggs, and honey.
Either way, we've got recipes and tips to help you navigate vegan and vegetarian cooking for special occasions and everyday meals.
Hyvee

Dietitian Expert Tip

To make your casseroles vegan-friendly, substitute canned cream of mushroom soup with our vegan cream of mushroom soup recipe.
Nutritional Yeast on Everything
Learn how a few shakes of this cheese-like ingredient can boost nutrition in vegan and vegetarian diets.
Learn How
3-Ingredient Vegan & Vegetarian Recipes
Grilled Cheese

It's possible, but there's a trick to getting it just right.

Totchos

Most tots are vegan-friendly, but we used a non-dairy sour cream.

Orange "Chicken"

We gotta admit, this one surprised us with how good it was.

Tacos

It's all about seasoning the filling and adding a little crunch.
See Recipes
Vegan Spinach Artichoke Dip
Curious how to make a cheesy dip without the cheese? It's literally nuts. Cashews to be more specific. Learn to make a rich and creamy cashew "cheese" with just cashews and water. 
Main Ingredients
Vegan Baking Made Easy
Since most baking recipes call for ingredients vegans avoid—butter, eggs, honey, milk—baking can be a challenge. But it's one that we've fully embraced in the test kitchen. Below are a few tips and recipes for easy vegan baking.  
Hyvee Dietitian Expert Tip

If you need to substitute an egg in a recipe, you can make a chia egg. Just add 3 tablespoons of warm water to 1 tablespoon of crushed chia seeds. Allow the seeds to soak for 5 minutes until you have a gel-like consistency. Then use the mixture in your recipe.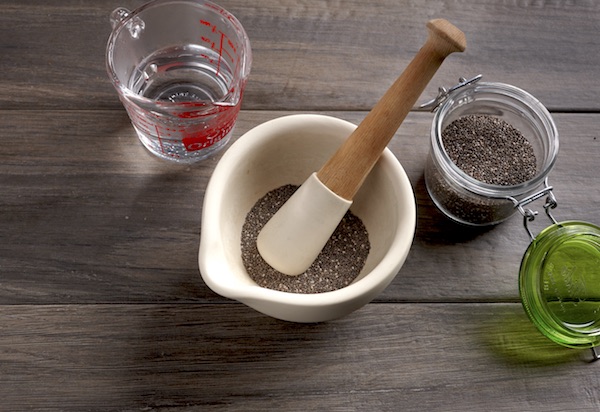 Grind 2 tsp. chia seeds using a mortar and pestle. Mix in 3 T. warm water.
Most pie crusts contain butter or lard, which gives the crust its characteristic flaky texture. But, did you know you could use coconut oil with similar results?