Holidays
17 Vegan and Vegetarian Side Dishes for a Happy Holiday Meal
Primary Media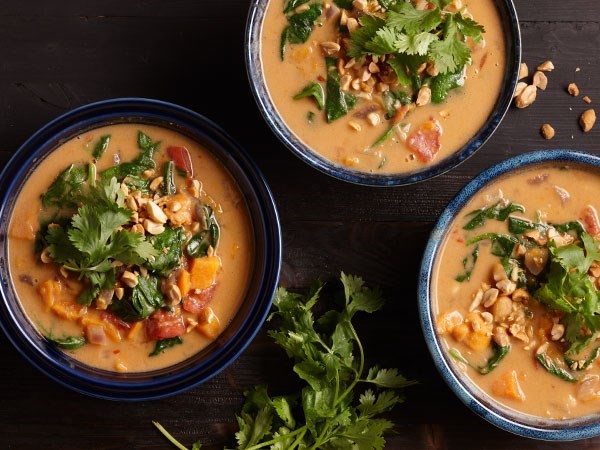 Description
Maybe you're vegan, maybe you're vegetarian, maybe you're neither, because maybe you're cooking for someone who is... Either way, here's our best collection of recipes for vegan and vegetarian holiday side dishes. 
Sheet Pan Acorn Squash and Turmeric Soup (Vegan)

Why we love it: Not because it's vegan, because it's as easy as roasting veggies and blending them into a beautiful soup.

Fresh Corn Miso Soup (Vegan)

This creamy soup gets it's umami flavor from a spicy miso paste—a secret weapon for vegan cooks. 

Savory Roasted Vegetables (Vegan)

When in doubt, a platter of roasted vegetables is a simple side that will remind everyone how much they love roasted vegetables.

Easy Baked Butternut Squash (Vegan)

This one captures the flavors of the holidays in fewer than 5 ingredients. To make it even easier, look for Hy-Vee Short Cuts pre-cut butternut squash in the produce department.

Roasted Maple Acorn Squash

A sweet side for a savory entree, this low-sodium vegetarian side is offers a little balance to your meal.

Air Fried Brussels Sprouts (Vegan)

Got an Air Fryer? Have you tried Brussels sprouts yet? If not, you've been missing out on a good, good thing. 

Creamy Broccoli Pasta Salad

If you love a good pasta salad and a crunchy broccoli salad, it's time to get in on the best of both worlds. 

Daisy's Cheesy Potato Casserole

Cheesy potatoes are always welcome at the table, for brunch, lunch, dinner, late night ... always.

Applesauce Stuffed Sweet Potatoes

Stuffed with all kinds of good things, these sweet spuds will fit right into your holiday meal. 

Maple Sweet Mash (Vegan)

Sweetened with maple instead of honey makes this holiday dish vegan friendly ... and delicious. 

Wild Rice and Quinoa Stuffing with Apples and Cranberries

The title pretty much sums up what's in this flavor-packed vegetarian stuffing. And it's as good as it sounds.

Garlic and Herb Spaghetti Squash

Yes it's vegetarian, but it's also ideal for anyone watching their carbs, which can be extra challenging during holiday meals.

Grown Up 3 Cheese Macaroni and Cheese

Because we never stop loving mac & cheese, and because it's vegetarian friendly, this just might be our favorite holiday side. 

Corn and Red Pepper Roasted Smashed Potatoes (Vegan)

If you need a vegan potato option, one that some would say is even better tasting than traditional mashed potatoes, this is it. 

Beet Turnip and Potato Mash

We love the additional of beets and turnips in this side dish mash up. You could also easily make it vegan by swapping the butter for vegan butter or olive oil. 

Refrigerator Mashed Potatoes

The beauty of this dish, besides all the potatoes, is that you can make it in advance and bake just before serving. 

African Stew (Vegan)

A take on the popular West African dish, this peanut butter infused soup is the kind of thing that surprises your taste buds in the best possible way.