Holidays
15 Vegan & Vegetarian Holiday Dinners That Aren't Tofu
Primary Media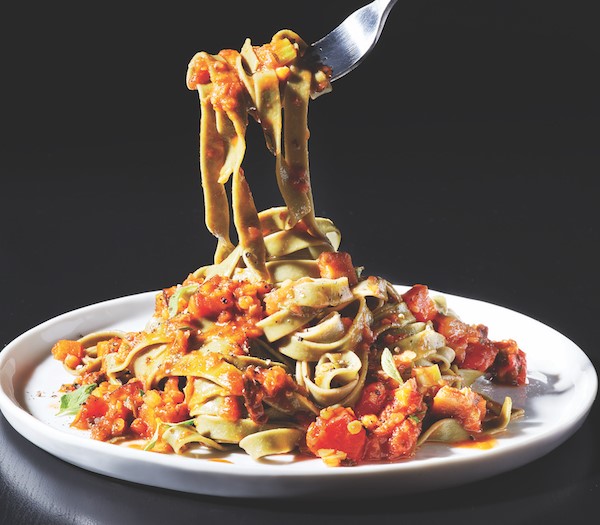 Description
If you're curious, the difference between vegetarian and vegan is this: A vegan is someone who does not eat or use animal products, including meat, dairy, eggs, honey, etc. A vegetarian is someone who does not eat meat. Both of these diets are often rich with veggies, grains, legumes, and nuts. Vegetarian and vegan cooking can be incredibly tasty—and healthful—if you use the right combination of flavors and ingredients. 
Butternut Squash Raviolis

Butternut squash ravioli lightly coated in butter sauce is good all on its own. But topped with cranberry and tarragon crumbled goat cheese, it's a holiday meal worthy of the center platter on the table.

White Bean Quinoa and Kale Soup (Vegan)

For a comforting and cozy holiday meal, soup is the only answer. And this one just happens to be vegan friendly.

Vegetarian Bolognese (Vegan)

This one's all about the lentils and veggies in the sauce. It's what gives it the "meaty" texture and savory flavor you'd get in traditional bolognese. 

Harissa Chilaquiles

This one's a staff favorite for any occasion, holiday or otherwise. And not just because it's a 30-minute one-pan meal. 

Shepherd's Lentil Pie

It's just as craveable and filling as the traditional version. As long as there's mashed potatoes on top, you won't get any complaints about this one. 

Vegetarian Stuffed Portabella Mushrooms

You can easily make this vegan by swapping out the cheese for vegan cheese. It's really all about the mushroom, anyway.

One Skillet Moroccan-Style Chickpea Bowl (Vegan)

This quick-fix peanut buttery and spiced-just-right meal is one of those rare finds that happens to be gluten-free, vegan, one-dish, easy-to-make, good-for-you, and really, really delicious. 

Instant Pot Butternut Squash Risotto

It's a holiday-worthy dish you don't have to babysit and stir endlessly like traditional risotto. It's worth getting an Instant Pot for. 

Packed-Out Bell Pepper

Stuffed with all the things we love, these peppers are always spectacular to serve guests. 

Vegetable-Cheese Tortellini

When in doubt about a vegetarian holiday meal option, reach for the tortellini. 

Tomato Basil Gnocchi

We always enjoy making homemade gnocchi, but what we love even more is simply buying it.

Ricotta Ravioli Pasta

Ravioli doesn't need much to be awesome. A light olive oil or butter sauce is really all it takes. 

Apple Cranberry Stuffed Acorn Squash

We like this one as a vegetarian dish for Thanksgiving, but it makes a fine anytime fall meal, too. 

Rainbow Lasagna (Vegan)

A lasagna that will make a vegetable lover out of anyone, this extraordinary recipe is a keeper for vegans and a must-try for everyone else.

Quinoa Stuffed Peppers (Vegan)

Every good vegetarian has a few stuffed pepper recipes around, but this one happens to vegan-friendly and gluten-free as well.