Food Love
15 Easy Pantry Recipes for Breakfasts, Lunches, Dinners & Desserts
Primary Media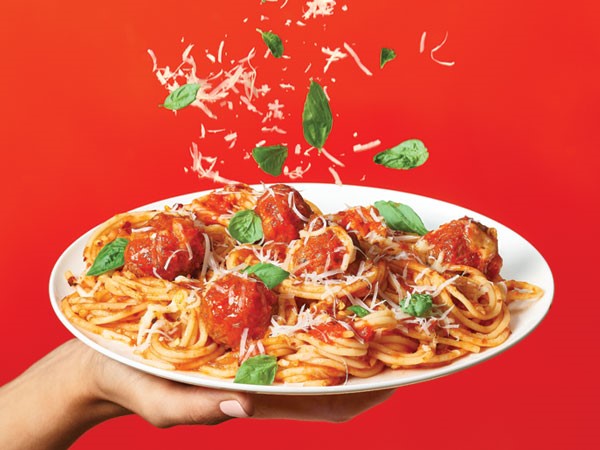 Description
We love any recipe we can make from pantry staples, freezer foods, or everyday fresh items. For breakfasts, lunches, dinners, snacks, even dessert, these are the recipes you can make with what's on hand.
P.S. The Vegan Peanut Butter Cookie recipe is out of this world, and so simple to make!
One Pan Moroccan Chickpea Bowl

Chickpeas, peanut butter and Steam Quick frozen brown rice make up the foundation of this flavorful recipe. While it does call for coconut oil, you can substitute any vegetable or olive oil.

5-Ingredient Chicken Noodle Soup

You had us at 5 ingredients. We always to try to double up when we make chicken. That way we have leftovers for making this soup the next day.

Easy Pasta Meatball Bake

This is why we like to keep frozen meatballs in the freezers and pasta in the pantry. You can literally make this with just 4 ingredients. Easy, right?

Goulash

Our 4-ingredient version uses canned soup, macaroni elbows, ground beef, and veggies. A keeper, for sure.

Quick Chicken Tortilla Soup

This universal favorite is a must. And the reason we keep canned tomatoes, chicken broth, enchilada sauce, and frozen corn on hand.

White Bean, Quinoa & Kale Soup

This healthy, high-fiber, comforting soup is in our weekly rotation. It's also one of those soups that tastes even better the next day for lunch.

30-Minute Chili

We love this recipe! It's so quick and easy, plus each serving contains 15 grams of protein and only 230 calories. If your stockpot is big enough, we highly recommend a double batch.

Chili Mac

This is one of those childhood favorites that never gets old. And it's another great example of why we love to keep canned beans, pasta, and tomato sauce on hand.

Triple Berry Oatmeal Pancakes

If you don't normally keep dry milk powder on hand, this recipe is a good reason to start.

Peach and Blueberry Sheet Pan Pancakes

Canned peaches and buttermilk pancake mix are the base of this pancakes-for-a-crowd recipe. Then it's topped with a crumb topping made with oats, brown sugar, flour, nuts, cinnamon, and butter. YUM.

Apple Pie Baked Oatmeal

Pie for breakfast? Yes, please. This baked oatmeal recipe tastes like warm apple pie.

Vegan Peanut Butter Cookies

It's pretty much the best peanut butter we've ever had. And you only need 4 things to make it.

Ramen Granola

Ramon noodles are making a big comeback, and good thing, too. There's so much you can do with these crunchy little spirals.

Apricot-Almond Health Balls

With the help of a few pantry staples, you can whip up these delicious power bites for a healthy snack.

Thai Tomato Cod Soup

With 3 canned ingredients and fresh fish, you can dip into a flavorful Thai-inspired soup in just 20 minutes.