Primary Media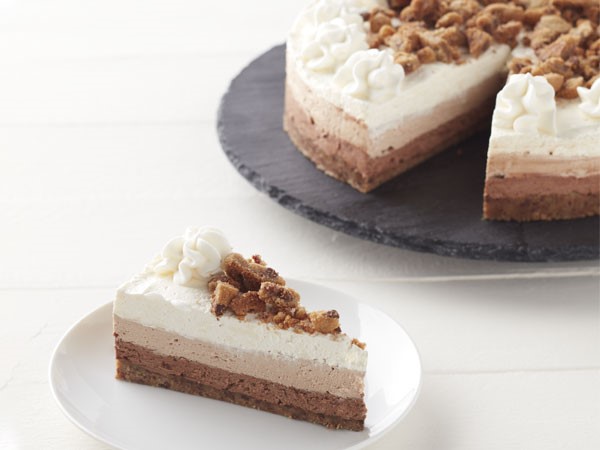 Description
Sometimes, you need a homemade dessert for a get-together. Sometimes, you just need chocolate for dessert. But what do you do when it's too hot outside to bake? Or you just don't want to go through the hassle of preheating your oven (we know... we've been there). Whatever the case may be, these desserts do not require any preheating or baking but are packed with chocolatey flavor to satisfy your craving.
Pistachio-Brownie Ice Cream Dessert

Not only is this dessert packed with chocolate and mint flavor, but you only need 3 ingredients.

Red, White, and Blue Ice Cream Cones

Yes, these ice cream cones are decorated with red, white, and blue sprinkles. And, yes, they are perfect for a patriotic-themed party. But you can also change out the sprinkles to be whatever color you want! (Same goes for the ice cream.)

Layered Chocolate No-Bake Cheesecake

Think no-bake desserts aren't quite as decadent? Think again. Our triple chocolate cheesecake is packed with white, bittersweet, and milk chocolate and are layered on a crust made of crushed chocolate chip cookies. 

Chocolate-Berry Dessert Nachos

A quick chocolate dessert for 2? Check. 

Cannoli Dip

Our 5 ingredient take on the classic cannoli is a can't-get-enough dip. Use graham crackers, waffle cones, or fruit to dip into this chocolate chip-filled dip.

Berry Crepe Cake

Okay, even though this recipe only has a drizzle of melted chocolate chips on top of the berries, it's one of our absolute favorites and we're sharing it anyway. You're welcome.

Dark Chocolate Nut and Seed Bars

These nut and seed bars are filled with healthy nuts, seeds, and grains, but still taste chocolaty and indulgent.

Frozen Fudgy Pops

Chocolate fudge pops are a summer classic. But what if we told them you could make them yourself? With just 3 ingredients...?

Cookie Dough Keto Fat Bombs

Following a Keto diet? These no-bake Cookie Dough Fat Bombs have a chocolate drizzle so you can get a bit of your chocolate fix.

Chocolate-Almond Bites

Chocolate almond candies, you've met your match! Make your own chocolatey version of this favorite candy bar and store in the refrigerator for when you need your chocolate fix.

Belgian Waffle Sandwich Cookies

Sandwich cookies. Filled with homemade caramel-maple butter cream. Dipped in chocolate. Enough said.

Chocolaty Avocado Pudding

Smooth-as-silk chocolate pudding made possible with a base of avocados.

Pomegranate Chocolate Candies

Looking for a heathier chocolate no-bake dessert? Just melt dark chocolate chips and top with fresh pomegranate seeds. There, you're done!

Strawberry Ice Cream Pie

Because it's not a no-bake article without ice cream pie. Top a crushed chocolate cookie pie crust with vanilla ice cream and frozen strawberries.

Brownie Hummus

Sweet hummus? Yup. That's right! You won't even notice the garbanzo bean base when you mix in chocolate hazelnut spread, cocoa powder, and vanilla extract.