Food Love
13 School Lunches, Snacks and Desserts Kids Won't Trade at the Lunch Table
Primary Media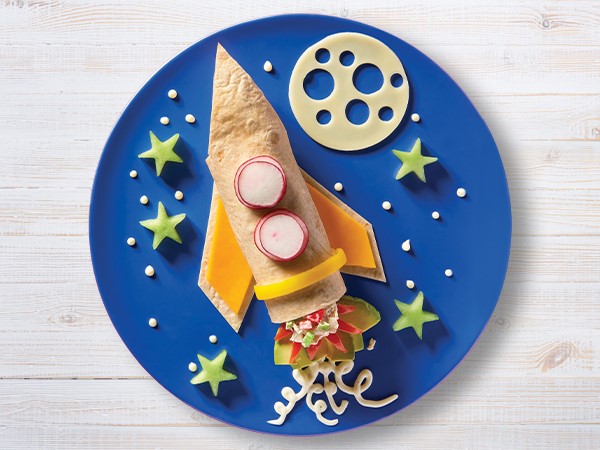 Description
Get ready to ace lunchtime with these kid-approved school lunch, snack and dessert recipes! From Sushi Sandwich Rolls to Rainbow Bread and more, our A+ lineup of ideas will be the envy of the cafeteria.
Chicken Salad Space Rocket Burritos

You can absolutely play with your food — and get the kids involved! Have them help make their lunch with this fun and easy Chicken Salad Space Rocket Burrito.

No-Bake Cereal Bars

Use the family's favorite cereals to mix up a batch of No-Bake Cereal Bars. 

Apple Crunch Kitty Sandwich

Filled with apples, soy butter and cereal, the kids won't realize they're eating a healthier, peanut-free lunch.

Ham and Cheese Lunch Kabobs

A playful twist on the classic sandwich, these easy kabobs are made with savory ham, cheese and a rainbow of fresh veggies.

Blueberry-Cinnamon Yogurt Brittle

Made with only three ingredients, it's easy to prepare a batch of Blueberry-Cinnamon Yogurt Brittle for an after-school snack.

Rainbow Bread

Chocolate-Date Energy Balls

If you're looking for a sweet treat without added sugar, you've come to the right place! Naturally sweetened by dates, the kids will never know these chocolaty energy balls are a healthier, protein-packed snack.

Thick 'n' Creamy Macaroni and Broccoli Cheese Soup

The kids will savor every spoonful of this comforting, creamy soup.

Sushi Sandwich Rolls

Roll their favorite sandwich into a savory sushi roll they'll devour in no time.

Celery Critters

Creepy crawly critters are a tasty way to encourage kids to eat fruits and vegetables.

Pizza Cupcakes

Made with only five ingredients, it's easy to pack a personal pizza party in their lunch box any day.

Banana "Sushi"

Pack Banana "Sushi" in the kiddo's lunch box or serve as an after-school snack for a fun way to satisfy their hunger and fill their tummy with nutrients.

Totable Mac 'n' Cheese Bars

Have you ever heard of Mac 'n' Cheese Bars? Prepare a batch in advance and pack frozen bars in a school lunch box. They will be thawed and ready to reheat by lunchtime.