Primary Media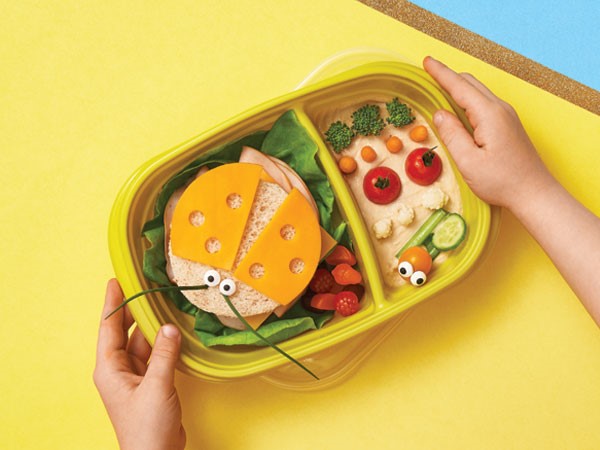 Garden Bugs Bento Box

Make a lady bug sandwich from whole wheat bread, deli turkey and Cheddar cheese—with candy eye balls and chives for antennas—on a bed of lettuce. Sprinkle a few fruit- and veggie-shape fruit snacks. Then plant colorful veggies in hummus dip.

Best in Class Bento Box

This lunchbox gets an A+! Create an edible notebook sandwich, spreading bread with sunflower butter and jelly, then decorate with fruit strips cut from fruit roll-up cutouts. Round it out with some fresh melon and mango cut into letters and shapes ... because Y not?

Pirate Day Bento Box

Now this would be a treasure for any kid to find. Decorate two mini Babybel cheese snacks with edible marker to make pirates. (You can find edible markers in the cake supply aisle.) Then fill a compartment with blue gelatin, add an orange slice and insert a paper flag for a pirate ship. For the treasure map sandwich—a combination of hummus, chicken, lettuce, avocado, and tomato—sketch a map using edible markers. Finish by placing a milk chocolate nugget for the treasure chest.

Bone Appetit Bento Box

Make a puppy wrap by filling a whole wheat tortilla with light mayonnaise, sliced deli provolone cheese, and honey ham. Set on a bed of lettuce with cherry tomatoes. Decorate with ham and cheese cutouts and raisins. Then fill the remaining compartments with Keebler Scooby-Doo Baked Cinnamon Cracker Sticks and heart-shape pineapple and honeydew cutouts.

Under the Sea Bento Box

For the octopus cheese dip, fill a compartment with cottage cheese and top with a mini red bell pepper and pepper strips and add olive eyes. Then make a blueberry ocean topped with fruit-flavor sharks and pretzel goldfish. Finally, shape a mermaid from a sliced button mushroom, a mozzarella pearl, fresh basil, mini pepperoni slices, and cooked spaghetti with sauce.

Lion Sandwich Bento Box

To create your roaring lion, make two sandwiches for the head and body. Cut shapes using round cutters and attach the bread crust arms with mustard. Add a crust tail with provolone for paws, adding wild rice nails, and use Cheddar and provoke to make the face and ears. Then add chive whiskers, a tomato nose, green olive eyes, black olive eyebrows, and a bell pepper mane. Fill the remaining compartments with chopped fruits and veggies. 

Woodland Creatures Bento Box

For whimsical woodland creatures, pick your sandwiches of choice and cut with round cutters. Use wheat and pumpernickel bread to cut out eyes, ears, and other features. Cut provolone and Cheddar cheese for the faces and Colby Jack for the spikes. Use black olives for the noses and cherry tomatoes for the cheeks on the raccoon. Pair with mixed fruits and veggies. 

Puppy Sandwich Bento Box

To make a playful puppy, cut one sandwich with pumpernickel for the ears and another with wheat for the head. Cut ham or bologna into circles for the cheeks. Use black olives for the nose and eyebrows and green olives for the eyes. Use a small slice of raspberry for the puppy's mouth. Lay on a bed of lettuce with Scooby-Doo! baked honey graham cracker sticks and pair with chopped fruits and veggies.