Primary Media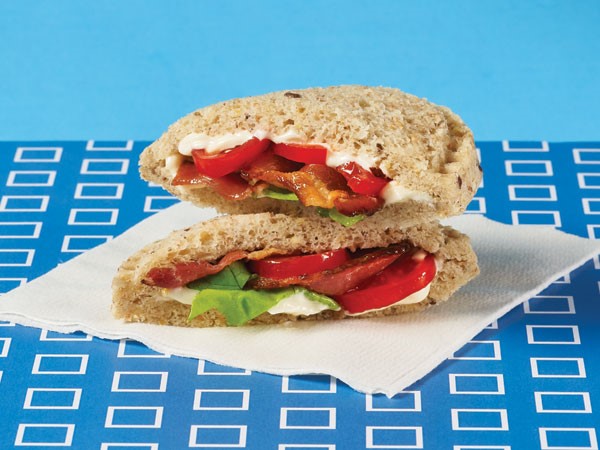 Description
Prepping lunches for the week is as easy as ...
1. Spoon the filling in the center of the bread and top with a second slice.
2. Press the slices together and then cut into a circle using an upside-down jar to remove the crusts.
3. Seal the edges with a fork, wrap the sandwiches in plastic wrap, and store in the freezer.
Pro tip: Pack the sandwiches frozen, and they'll be thaw just in time for lunch. 
Also see, 5 Bento Box Lunches for Kids That Are Actually Doable.
Sunflower Butter & Raspberries

What's tucked inside this handheld sandwich? So glad you asked. This healthier version of a pb & j is made with sunflower seed butter, raspberry preserve, and fresh raspberries on Hy-Vee Bakery 10-grain bread.

Hyvee

Dietitian Expert Tip

Sunflower Seed Butter is an excellent alternative to peanut butter if you or someone in your family has a peanut allergy.

Almond & Banana

If you like peanut butter, just wait until you try almond butter. We used the Hy-Vee no-stir creamy almond butter, grape jelly, and banana slices to make this tasty little sandwich. 

Cashew & Blackberry

We might be pushing it with this one, but if your little one has a taste for adventure, give this zebra-inspired sandwich a try. We used Hy-Vee Bakery marble rye, cashew butter, peach preserves, and fresh blackberries for a sandwich so good you might eat them all before your kids do.

BLT

Change up your nut butter and berry routine with a crisp and crunchy BLT. We used light mayo, crisp cooked bacon, fresh Bibb lettuce, and thin slices of ripe tomato. Note: This sandwich is best eaten the day it's made as it does not freeze well like the others.

Chocolate-Hazelnut & Strawberries

For a special treat, you can't go wrong with chocolate-hazelnut spread and fresh strawberries. We like to round out this one with string cheese and veggie sticks.