Living: Family
7 Kid-Friendly Sandwiches that will be a Hit in the Lunchroom
Primary Media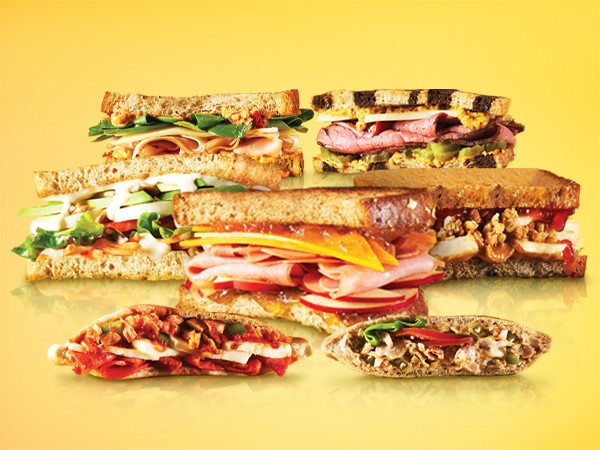 Description
Kick those boring kid lunches to the curb! Instead, fill those lunch boxes with something fun and flavorful, such as a hearty sandwich with a twist. All it takes is a variety of breads, fillings, and unique toppings to make your kid's lunch the envy of the cafeteria. Here are a few pointers to get you started.
Call it Salad on Bread

Even without meat, kids get adequate protein, carbs and vitamins from veggies all in one place. Grab these ingredients for an easy Avocado, Egg & Tomato sandwich:

Hy-Vee Bakery wheat buttercrust bread
Hy-Vee Short Cuts hard-boiled egg slices

Vary the Bread

Pita bread is a fun shape and easy for kids to handle. Plus, with these ingredients, you can whip up a Pizza Pita that is sure to win praises…from both kids and adults!  

Shredded Hy-Vee rotisserie chicken

Throw in a Surprise

Fresh apple slices tucked between layers add pleasing crunch to a standard ham and cheese sandwich. Give this a try!

Satisfy all PB&J Lovers

Soy butter and sunflower nut butter are nutritious options, especially for kids with peanut allergies. Check out Hy-Vee's HealthMarket for gluten-free and organic products, and bring this list to get you started:

Give it a Flavor Boost

Dijon mustard and dill pickles add punch and pizzazz to any sandwich without adding extra fat and calories. Don't believe us? We'll let this delicious Beef-Provolone sandwich do the talking:

Spread Some Hummus

Boost flavor and nutrition in this classic Tuna-Veggie sandwich by using hummus, a lower-fat chickpeas spread that contains protein and fiber.

Change up the Cheese

Creamy and buttery Havarti cheese is a welcome change from the usual swiss or cheddar. Trust us: Your turkey sandwich will never be the same!