Primary Media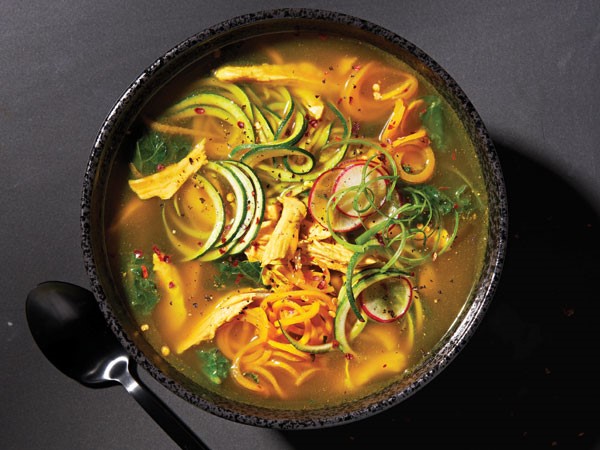 Description
Turmeric may seem like the "newest" spice on the block, but truth is, it's been around for thousands of years. Historically it was used in Ayurvedic medicine to treat a variety of health conditions. Today, it's even turned into capsules, tablets, and extracts and taken as a supplement. Talk to your Hy-Vee registered dietitian to learn more about the benefits.
While much of the science is still up for debate, we know one thing to be true: It's amazing to cook with, and adds a deep golden color along with a mildly aromatic flavor to curries, sauces, and rice dishes.
Plus, here's a little fun fact: When you mix turmeric with black pepper, the component in turmeric that's being studied for its benefits—called curcumin—becomes more bioavailable to your body, thanks to how it reacts with a substance called piperine, found in black pepper.
Here's a few of our favorite ways to use it:
Honey Turmeric Chicken

Turmeric can be used in Asian marinades to help balance the flavors. Try it in this version that uses honey, soy sauce, garlic, and ground turmeric.

Turmeric Tea

Make your own tea bags by combining a variety of spices like turmeric, cinnamon, and nutmeg, along with a touch of citrus zest. 

Turmeric Ginger Chicken Zoodle Soup

Turmeric has the power to transform broth-based soups into gold, including this chicken zoodle soup.

Pickled Carrots

Use turmeric to add aromatics to pickled vegetables. This is a case when fresh ground turmeric would work beautifully, but dried will also get the job done. Either way it blends nicely with coriander and fresh ginger.

Hyvee Culinary Expert Tip

Look for ground turmeric in the spice aisle, or you can sometimes find fresh turmeric root in the produce department (near fresh ginger). Simply peel and grate as you would fresh gingerroot. Just remember: 1 inch of fresh turmeric is equivalent to about 1 tablespoon of fresh grated turmeric, which is equivalent to about 1 teaspoon of ground turmeric from the spice aisle.

Protein Shakes and Smoothies

Many people enjoy adding about a 1/2 teaspoon of turmeric to smoothies and protein shakes. We are among them.

Golden Milk Chai Tea Latte

Golden milk is gaining in popularity as a soothing nighttime drink. Essentially, it's a spiced warm milk, similar to chai, containing a combination of turmeric, cinnamon, and similar spices.