Primary Media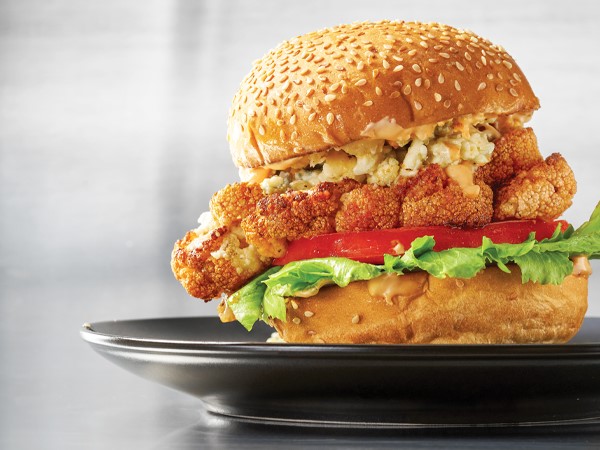 Description
If you're looking to go meatless, vegetarian, or simply looking to fit more veggies into your diet, start with these hearty recipes. These vegetarian recipes are made with mild-tasting cauliflower which makes them the perfect meat substitute. One taste of our BBQ Cauliflower Nachos, Buffalo Cauliflower "Wings", or Cauliflower Burrito Bowls, and you'll turn into a cauliflower lover! 
Blackened Cauliflower Burgers

Cauliflower burger? Yes, we're serious! All the seasonings you love in a blackened spice burger made vegetarian! Cut your cauliflower into steaks, season, sear, and place between two burger buns.

Buffalo Cauliflower "Wings"

Doused in a tangy hot sauce, crispy baked cauliflower florets are an addictive yet low-calorie and vegetarian game-day snack.

Gluten-Free Cauliflower Pizza Crust

Using cauliflower instead of flour gives this pizza crust some added nutrients without the calories.

Veggie-Stuffed Mac 'N' Cheese

Squash, broccoli, and cauliflower give this kid-favorite comfort food a healthy twist.

BBQ Cauliflower Nachos

Vegetarian BBQ nachos packed with cheese, tortilla chips, and veggies. Yes, we're talking about cauliflower!

Achiote Cauliflower Tacos

The slight peppery, and not so spicy, homemade achiote seasoning adds flavor to these vegetarian tacos. You won't even miss the meat in this recipe!

Cauliflower Rice Burrito Bowls

You won't believe how good cauliflower tastes in this burrito bowl recipe. Purchase pre-riced cauliflower or rice it yourself, then pan sear with taco seasoning. You'll never want to go back to traditional rice again!

Cauliflower Steaks with Jalapeno Sauce

Pan-sear your cauliflower steak and serve over hummus and top with roasted vegetables and a homemade jalapeno sauce.

One Skillet Cauliflower Burritos

The only thing better than these cauliflower floret burritos is only using one skillet to prepare them!

Cauliflower-Broccoli Cheese Casserole

Our casserole is packed with cauliflower, broccoli, and cheese and is a great option for a keto-based side or main dish.

Buffalo Cauliflower Lettuce Tacos

One of these lettuce tacos filled with buffalo-sauce-covered cauliflower florets contains 5 grams of protein. They're an excellent low-cal meat-free lunch for any vegetarian. Or, if you're just simply looking to eat less meat.

Maple and Sriracha Roasted Cauliflower Steaks

One sheet pan is all you need to create these sweet and spicy cauliflower steaks made with maple syrup and Sriracha sauce.

Cauliflower Pizza Sticks

Cut carbs when you use fresh steamed cauliflower to make the base of these pizza sticks. To turn this appetizer into an entree, keep the crust whole and top as desired.

Cauliflower-Potato Soup

Roasting the cauliflower gives it a mellow sweetness that enhances the flavor of this velvety smooth soup, which is low in fat and gluten- and dairy-free. To keep it vegetarian, just substitute the chicken broth for vegetable broth.

Cauliflower Steaks

Drizzled with a cilantro-infused yogurt sauce, cauliflower "steaks" are as impressive and delicious as they are healthy. Serve as a side dish or top with a fried egg and call it the best breakfast under the sunny-side.