Primary Media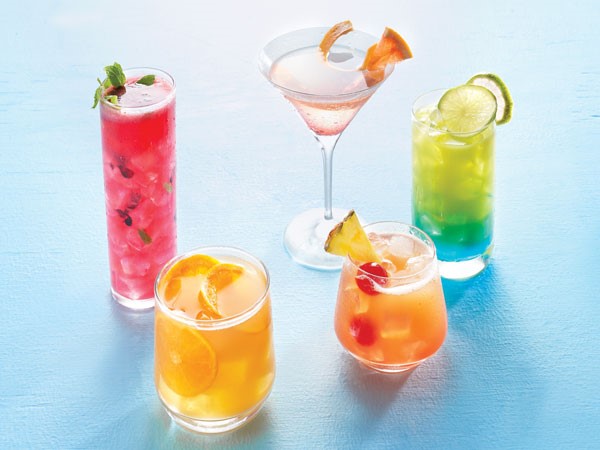 Description
Staycation? Daycation? Or just wanting a taste of a tropical getaway? Reach for one of these tropical cocktail recipes made with rum. Use clear rum for a clean, crisp, and sweet flavor or reach for spiced rum to add flavor notes of vanilla, spice, and molasses. No matter if you're sipping on a piña colada, dark and stormy, or mai tai, these recipes will transport you straight to the pool, beach, or wherever your happy place is!
Easy Rum Punch

Who doesn't love a tropical rum punch? Especially if it's served in a pineapple cup... Just sayin'...

Rum Swizzle

We're crazy about this fast tropical cocktail. Use Hy-Vee's specialty Cross Keys Rum, aged 5 years, for an unbelievable cocktail.

Rainbow Rum Slushies

Not only are these rainbow slushies beautiful, but they taste awesome when mixed with rum.

Cachaca Cooler

Sip on a crisp and refreshing drink infused with cachaca, a light Brazilian rum. Floating a star fruit boosts the wow factor of this cocktail. 

Honeydew Mojito

Mix up this honeydew mojito with Malibu coconut rum for a refreshing cocktail.

Morgan's Melon

Use Captain Morgan rum and fresh watermelon for this sweet and refreshing summertime cocktail.

Cherry Mango White Sangria

Our tropical white wine sangria packed with cherries, mangoes, rum, and coconut water will quench your thirst.

Pineapple Coconut Cooler

If you're looking for a tropical cocktail, look no further. Combine pineapple juice with fresh lime juice and coconut rum for a refreshing cooler.

Mai Tai

Finishing this tropical drink with Cross Keys 5 year Aged Rum adds aromas of whole nuts, vanilla, and caramel. We wouldn't have our Mai Tai any other way. 

Watermelon Spritzer

Sip on this refreshing watermelon spritzer made from watermelon juice, Rosé, and Malibu Rum.

Jamaican Dark and Stormy

Specialty cocktails don't have to be complicated. Just grab ginger beer, rum, and lime juice for this classic drink.

Spiked Watermelon Agua Fresca

Using Hy-Vee Short Cuts, blend watermelon chunks, strawberries, Cross Keyes dark rum, granulated sugar, and fresh lime juice for a spiked watermelon agua fresca.

Peach Mojitos

Use spiced rum to bring out the sweetness of these peach-infused mojitos.

Pineapple Colada Slushies

If you like pina coladas... you're going to love our slushy take for our version of nonalcoholic Pineapple Coladas. For a cocktail version, substitute white rum for the pineapple juice.

The Mermaid

This tropical layered drink will have you feeling like you should be sailing the ocean blue.