Primary Media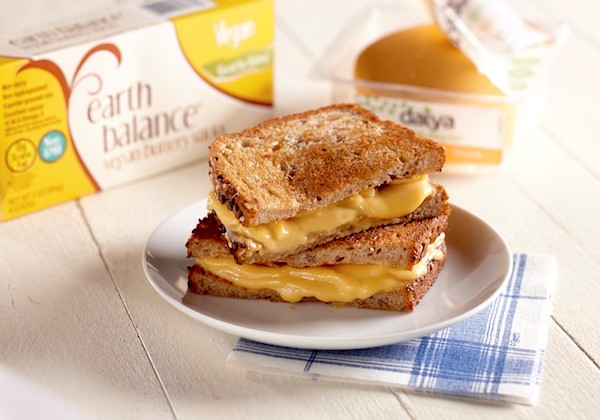 Description
With today's selection of vegan products, very few recipes are off limits. We rounded up the non-dairy yogurts, ice creams, and cheeses, along with the meatless veggie crumbles and soy "chicken" nuggets to whip up a few fast vegan meals and desserts. Below are the 3-ingredient keepers that warrant seconds. 
Vegan Totchos

Good news for vegans: Most tater tots are vegan. We built this shareable platter of totchos using dairy-free sour cream and fresh pico de gallo.

Vegan Grilled Cheese

The thing about vegan cheese is that while it tastes good, it doesn't melt like dairy cheeses. That's why we use this microwave and stovetop trick to make the perfect vegan grilled cheese.

Vegan Orange Chick'n and Cauliflower Rice

We thought this one sounded weird, but we cleaned our plates in the test kitchen and went back for more. Gardein makes a mandarin orange crispy "chicken" that can be served in lettuce cups or our personal favorite, over cauliflower rice—to soak up all the sweet and savory sauce. 

Vegan Yogurt Parfait

The options for dairy-free yogurt are nearly endless. And so are the options for vegan bars, such as Larabars, which we used to crumble on top of our parfait. 

Vegan Tacos

There are a few varieties of veggie crumbles on the market, including Gardein, Boca, and Morning Star. For our 3-ingredient taco filling, we seasoned the Boca veggies crumbles and added fresh bell peppers for crunch. 

Vegan Banana Split

Good luck splitting this split with a friend... And good luck stopping at 3 ingredients. Our desserts were amazing with just soy ice cream, bananas, and Enjoy Life chocolate chip cookies, but when you add a drizzle of peanut butter, a dollop of coconut whipped cream, and a cherry on top... oh man.