Primary Media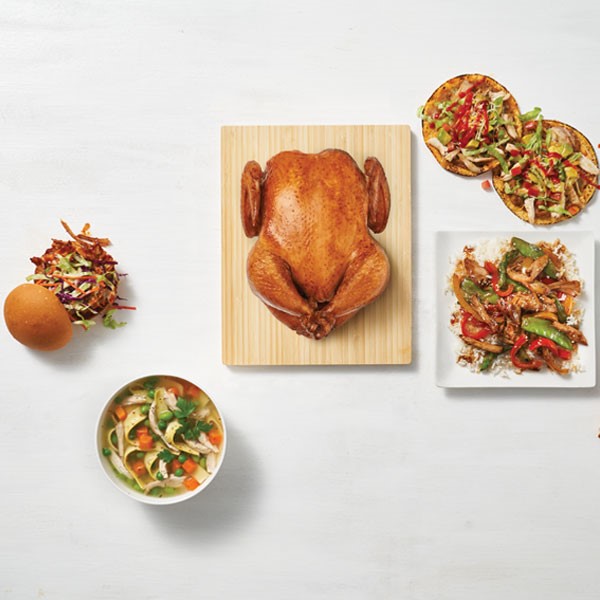 Description
Why Hy-Vee rotisserie chicken? Our chickens are raised without antibiotics and are now 10% larger. Plus, we have new ideas for putting rotisserie chicken to extra good use.
BBQ Chicken Sandwich

Quick and comforting (especially if you don't want to break out the grill or slow cooker). Combine coarsely shredded Hy-Vee rotisserie chicken with bottled barbecue sauce. Serve in a bun with creamy coleslaw.

Chicken Enchiladas

Stock your freezer with these chicken enchiladas. We promise you won't regret having these on hand.

Biscuits & Chicken Gravy

Diced rotisserie chicken plus two household staples—Hy-Vee Chicken Gravy Mix and Hy-Vee Homestyle Biscuit Dough—are all you need to whip up this southern classic. Maybe even sneak in a veggie or two?

Chicken Pot Pie

Topped with biscuits and only 5 ingredients? Yup. This is real life.

Chicken Noodle Soup

This classic recipe comes together in 30 minutes in just one pot. You're going to want to keep this recipe handy.

Chicken Tostadas

Quick dinner idea! Warm 6-in. corn tortillas; spread with refried bean dip. Top with desired amounts of shredded Hy-Vee rotisserie chicken, chopped avocado, sliced green onion, crisp shredded lettuce and chopped tomato. Drizzle with desired amount of Sriracha sauce.

Buffalo Chicken Dip

A snack that only takes 15 minutes to make and is an absolute MUST for game day.

Chicken & Waffle Wraps

If you haven't tried this yet, get ready to be wowed. Hy-Vee Multigrain Waffles make the perfect handheld chicken and cheese waffle wrap. It's a sweet and savory combo the whole family will get a kick out of.

Chicken Pasta

For those nights when you just need a quick, easy, and filling meal that's also family-friendly.

Everything Veggie Nachos

Make a shareable feast out of tortilla chips, rotisserie chicken, and whatever veggies and cheese you have on hand.

Cobb Salad Hoagie

Hard-boiled eggs, bacon, lettuce, and rotisserie chicken strips tucked inside a hoagie. For lunch, dinner, or adventurous breakfast eaters—your next meal is solved.

Ginger-Sesame Noodles

Whole wheat noodles tossed with ginger-sesame salad dressing, steamed veggies, and rotisserie chicken. Got peanuts or cashews in the pantry? Toss 'em in for a little crunch.

Chicken Alfredo Pizza

Chicken-Broccoli Stuffing Casserole

When we had this in the Test Kitchen, we literally could not stop eating it.

Chicken Salad Sliders

Make a quick chicken salad using rotisserie chicken to serve in dinner rolls, inside a pita, or stuffed inside a baked potato. Note: Chicken salad sliders are a favorite for serving at parties, showers, picnics, brunches, and tailgates.

Sweet-Spicy Stir-Fry

Watermelon Chicken Salad

Different yet delicious, this combination of watermelon, chicken, feta or goat cheese, and balsamic vinegar is as beautiful as it is simple—especially when you buy pre-cut fruit. And if watermelon's not in season, try it with a combination of citrus, such as blood oranges and tangerines.