Primary Media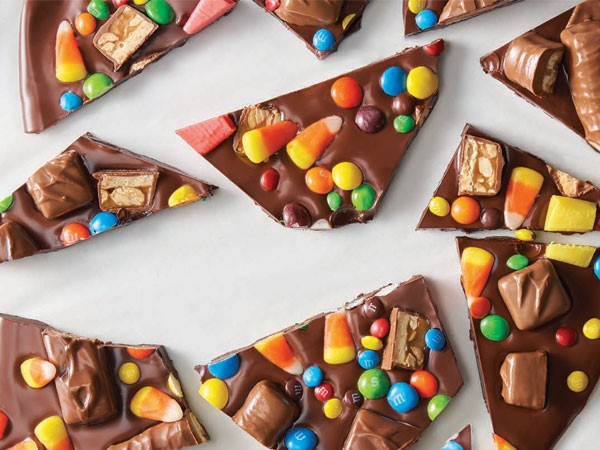 Description
Sure, you can dispense three pieces a day to the kids. Or you can have a little fun in the kitchen by making tasty treats even tastier. 
Candied Candy Apples

Caramel apples are delicious, but there's a trick to making them even better. Candy. After you dip your apples in the caramel coating, dip the bottoms in your favorite candies. M&Ms, KitKats, Snickers—whatever's in the treat bag.

Snickers "Salad"

It's a classic. It's absolutely addictive. And best of all, you're eating salad. 

Go Bananas

Fruit + chocolate + candy = winner! Cut a ripe, peeled banana to your desired size and insert a wooden stick. Slather on melted chocolate, peanut butter, or a mixture of the two and then sprinkle on chopped candy.

Sprinkled into Bark

Turning leftover candy into more candy—that's what we love about this recipe. Just spread melted chocolate on a parchment-lined and sprayed sheet pan. Top with your favorite colorful candies and let chill in the fridge until set, about 1 to 2 hours.

P.S. If you're really trying to unload extra sweets, homemade chocolate bark makes a great gift.

Halloween Candy Cookies

Halloween might be over, but that doesn't make these Monster Cookies taste any less good. Use whatever chopped candy you have in the stash. 

The Sweet Side of Trail Mix

Snack mix can handle just about any candy addition. There's just something about that salty-sweet... If you've ever tried mixing peanuts with candy corn, you know what we mean.

Cereal Bars with a Twist (or a Twix)

Ever had Rice Krispie Treats with chopped up peanut butter candies? Well now's your chance. While the mixture's still warm, get creative with mix-ins. Add peanuts, candy corn, Twix, M&Ms, or whichever chocolatey, nutty treat you have.

Bake and Freeze

Fold in chopped candy to cake or brownie batter, frosting, or a combination of the two. This gives cakes and cupcakes an extra sweet touch and a little crunch. Remember, you can always freeze baked goods in an airtight container.

Fruit Cake ... Yes, Fruit Cake

With Christmas around the corner, save your gummy candies and add them to your fruit cake for a new twist on an old favorite.

Instant Iced Mocha Coffee

There's no shame in blending a few chocolate candies into an iced coffee. Also try dropping a dark chocolate candy into a cup of hot coffee. No shame there either.