Primary Media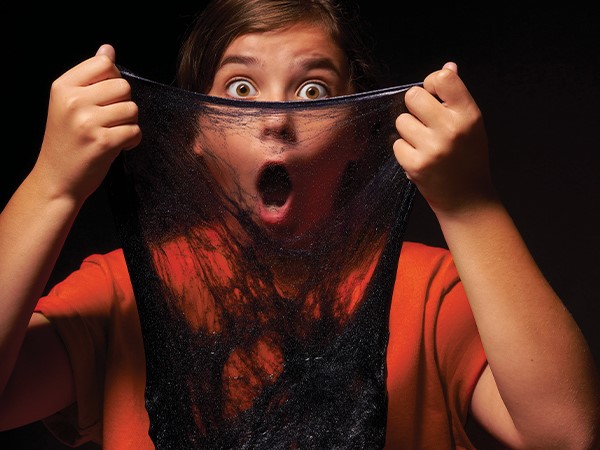 Description
These at-home Halloween activities and projects for kids are more bloodcurdling fun than a night of trick-or-treating.
Find more clever tricks & cute treats on our Halloween Guide!
Slimed!

Empty a 6-oz. container of Elmer's Classic Glitter Glue in a bowl or on a flat surface, then sprinkle about 1 Tbsp. of baking soda into the glue and mix. Squirt in a small amount of contact lens saline solution, then mix. Experiment with the ingredients until slime is somewhat gooey but doesn't stick. Then stretch away!

Pop-A-Pumpkin

Pick up a passel of orange balloons at the Hy-Vee Floral Department. Before inflating them, place a candy, paper money or trinket inside. Inflate, tie the end, then attach them to a wall with tape. Cut a stem shape from green construction paper and tape it to the wall above the balloons. Then let the fun begin as kids take turns sticking a push-pin into a balloon and collect their prizes.

Creepy Cauldron

Fill a plastic trick-or-treating pail with cans of aerosol spray streamers such as Silly String and Wacky String, and throw in a few plastic spiders for extra thrills. Don't worry—the spray streamers pull off household surfaces, though they're probably more fun used outdoors.

Monster Rolls

Paint cardboard toilet-paper rolls with Crayola Washable Kids' paint, then hot-glue goofy touches with candy corn, candy eyes, Lifesavers and other candies. Also: Popsicle sticks (antennae), licorice (hair), a Brillo soap pad (hair) and a cupcake liner as a skirt.

Witch-Hat Ring Toss

Perform some wizardry with black spray paint, empty glass soda or water bottles and black paper plates. Attach the painted bottles to the plates with hot glue. Fashion rings from rings at the tops of quart-size ice cream containers. Use duct tape for the "buckles" on the hats.

Fright-Night Hunt

Haunt the backyard and let kids search for their treats. Wrap kitchen cheesecloth around tree trunks, or drape it across bushes or along window boxes, then tuck in the treats. Fill small paper bags with candy, small toys or trinkets and tie to branches or fence posts.