Primary Media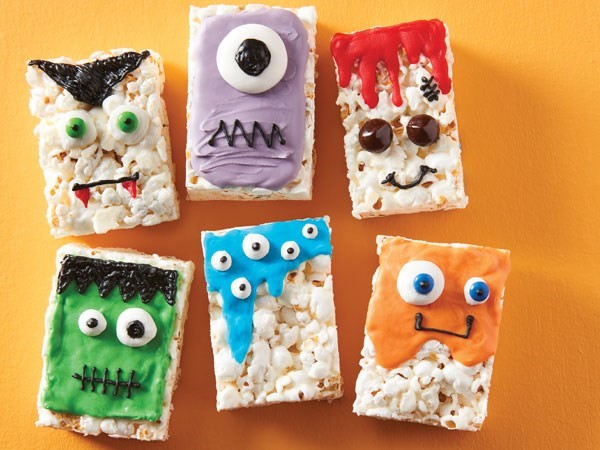 Apple Spiders

It's the Halloween treat you'll actually want your kids to eat. Layer apple slices, peanut butter, and pretzel sticks to make individual spider sandwiches. 

Monster Popcorn Bars

They're like popcorn balls, but better. Get everyone involved in making their own monster using melted white chocolate, sprinkles, frosting, and candy eyeballs. 

Granola Bar Monsters

Drizzle white chocolate over your favorite granola bar and add candy eyes. These monster treats are perfect for your dessert table or in lunch boxes. 

Chocolate Chip Spider Cookies

These cookies are too good to resist. Dress up pre-made chocolate chip cookies by piping spider legs on exposed chocolate chips.

Monster Pretzels

There's just something about sweet and salty chocolate dipped pretzels at a party... we can't get enough. Dress them up for Halloween by piping monster eyes directly on to the chocolate-covered pretzels. 

Chocolate-Covered Halloween Strawberries

Even strawberries can get dressed up for Halloween! Just dip in baking chips and decorate with melted semisweet chocolate chips. 

Spider Cupcakes

Halloween is the only time you'll be happy to see a spider on your cupcake. Take advantage with this festive spider cupcake topper. 

Fang-Tastic Candy Corn Donuts

Everything about this screams Halloween. Just take Hy-Vee bakery glazed donuts and add colorful "fangs" with candy corn. 

Monster Munch

You'd be a monster not to serve this at your party.

Chocolate Truffle Spiders

Creepy Crawly Cookies

M&Ms make these spider cookies less scary and more tasty!

Zombie Pasta Cups

Your guests will freak over how cute these pasta bites are.

Bone Cake

Dress up a Hy-Vee bakery white vanilla cake with "bones" made out of pretzel rods.

Sea Monster Pot Pies

Fill ramekins with your favorite pot pie fillings, then get creative with pastry and food coloring.

Werewolf Cupcakes

Start with Hy-Vee bakery unfrosted chocolate cupcakes, then have fun with piping and sprinkles.

Brie Mummies

Mummify brie rounds with strips of puff pastry, and use seasonal fruits to create spooky faces. No two should look alike!

Vampire Hearts

Lime Slime Punch

Kids love this drinkable slime. Brew it with fruit punch, coconut milk, and We All Scream! lime sherbet.

Mummies in a Blanket

Turn the party-favorite, Pigs in a Blanket, into Mummies in a Blanket with some creative dough wrapping.

Jack-O'-Lantern Fruit Cups

Cut the tops of navel oranges in a zigzag pattern and scoop out the fruit to make the cup part of this recipe!

Ghost Meringue Pancakes

Ghost meringues + candy corn pancakes + ghost goo = one delightfully frightful Halloween treat.