Primary Media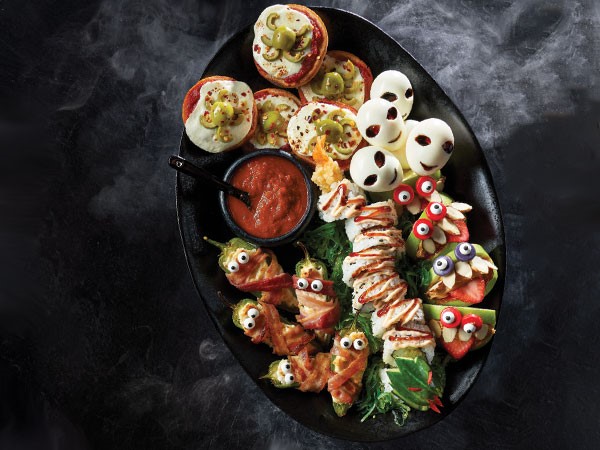 Description
Have an undying love for Halloween? Celebrate each day of October with 31 of our on-theme recipes. Want even more Halloween recipes and ideas? View our Halloween Guide filled with clever tricks and cute treats.
Eggs and Bacon Skull and Crossbones

Use a skull-shaped cookie cutter or egg mold to fry two egg whites. Cook, then add yolks for eyes and sliced bacon for crossbones.

Gory Donuts

Combine 1 tablespoon Hy-Vee light corn syrup, 1 teaspoon That's Smart! Chocolate-flavored syrup, and 6 drops red food coloring in a small bowl. Drizzle over 3 Hy-Vee Bakery raspberry-filled bismarcks with white icing, repeating as necessary. Stack decorated bismarcks and insert knife for serving, if desired.

Mummy Pops

Insert craft sticks into halved bananas. Freeze 3 hours. Dip into melted chocolate; let dry. Drizzle with melted white chocolate. Add mini M&M's for eyes and pipe on melted-chocolate pupils.

Zoet Bar Robot

Cut the top two squares of chocolate from a Zoet milk chocolate bar. Separate the two squares and cut one diagonally in half. Adhere triangles to sides of candy bar with melted chocolate for arms and remaining chocolate square on top for a head. Let dry. Stick on small candies, gummies, or candy eyes with melted dark chocolate.

Green Goblin Smoothie Bowl

Blend 1/2 cup Hy-Vee almond milk, 1/2 cup water, 1 tablespoon agave nectar, 4 cups fresh baby spinach, 1 cup Hy-Vee frozen peach slices, 1 avocado, 1 tablespoon fresh mint, 1 cup Hy-Vee frozen pineapple chunks, and 1 frozen banana in a blender. Cover and blend until smooth. Divide smoothie between 2 (16-oz. each) bowls. Garnish with fruit and seeds for a ghoulish face.

Witch Waffles

Prepare Hy-Vee pancake and waffle mix according to package directions; add green food coloring. Cook waffles as directed. Separate waffles into quarters. Dip the corner of each waffle quarter into melted dark chocolate. Attach a Kit Kat chocolate bar for a witch hat. Add yellow Twizzlers for hair, candy eyes, and a candy corn nose and Twizzlers mouth.

Creepy Candy Hand

Place one piece Jolly Rancher sour bites in each of the fingers of a disposable plastic glove. Fill glove with Hy-Vee caramel cashew honey crunch trail mix, tie wrist of glove with a piece of ribbon to close and garnish with small toy snakes and/or spiders.

Monster Munch

Make your own sweet and salty snack mix caramel popcorn, chocolate, and candy corn.

Frankenstein's Toast

Spread mashed avocado on toasted Hy-Vee Bakery whole wheat bread. Top with baby spinach for hair, Persian cucumber slices, and Hy-Vee stuffed Manzanilla olives for eyes, Hy-Vee Short Cuts broccoli for bolts, sugar snap peas for a mouth, and olive slices for stitches.

Scares and Snacks

Fill a plastic cauldron-shaped bowl with our favorite produce for October... Hobgoblin grapes.

Super-Quick Trick-or-Treat Pizza

Bake an already-assembled Crav'n pizza according to package directions. For cheesy ghosts, cut slices of mozzarella cheese with a ghost-shape cookie cutter to layer on the hot pizza. Add black olive pieces for eyes, noses, and spiders.

Jack-O'Lantern Meat Loaf

Use a jack-o'-lantern-shaped cake pan, found at your local Hy-Vee, to form your meatloaf into a spooky pumpkin. 

Crispy Rice Sugar Skull Cake

Press a homemade rice crispy bar into a skull-shaped cake pan. Then, get the kids involved in decorating this scary skull.

Creepy Critter Platter

When there's 5 Halloween recipes and ideas on one platter... there's something for everyone.

Jalapeno Mummies: Preheat oven to 350 degrees. Combine 3-oz. Hy-Vee plain cream cheese and 1 oz. shredded smoked Gouda cheese. Spoon into 5 seeded fresh jalapeno pepper halves. Wrap in bacon. Bake 20 to 25 minutes. Add candy eyes.

Monster Apple Slices: Sandwich peanut butter and jelly between 2 Hy-Vee Short Cuts apple slices. Add a strawberry slice for a tongue. Use peanut butter to attach sliced almonds for teeth and Spree candies and candy eyes. 

Alien Eggs: Carve alien faces into Hy-Vee Short Cuts hard-boiled eggs with a sharp knife. Fill carved spaces with Gustare Vita balsamic glaze.

Spider Pizza Bites: Preheat oven to 375 degrees. Top plain mini bagel halves with pizza sauce and slices of fresh mozzarella cheese. Add halved olives for spider bodies and olive slices for legs. Bake for 10 minutes. Garnish with Hy-Vee crushed red pepper.

Sushi Snake: Arrange 1 (7-oz.) container Hy-Vee tempura shrimp sushi roll in the shape of a snake. Add Hy-Vee seaweed salad around sushi for grass. Carve a cucumber head and teeth, using fragments of red bell pepper for eyes and tongue. Attache with wasabi.

Pudding Graveyard Cups

Top a pudding cup with crushed chocolate sandwich cookies, sprinkles, and sour skull. Pipe melted dark chocolate letters on Milano cookie for gravestone.

Spiderweb Cookies

Pipe melted white chocolate on Hy-Vee Bakery homestyle brownie cookie in the shape of a spiderweb. Adhere M&M's to melted white chocolate, then pipe melted dark chocolate around M&M's for spider legs.

Cheese Monsters

Using a sharp knife, carve the wax wrapper of Babybel cheese into monsters. Attach candy eyes.

Scaredy-Cat Cookies

Dinosaur Eggs

Tint a small bowl of water with purple food coloring. Gently roll a hard-boiled egg on a hard surface, cracking shell but keeping it intact. Leave cracked eggs in food coloring mix at least 4 hours or up to overnight.

Cookie Bat

Dip chocolate sandwich cookies in melted dark chocolate. Attach 2 chocolate sandwich cookie halves underneath chocolate-dipped cookie to form wings; add candy eyes. Let dry. Pipe on a mouth with melted white chocolate melting wafers. Add blood drops with Over the Top red write-on gel.

Spooky Fingers

Peel and trip carrots and parsnips. Make slight cuts for knuckles. Cut red bell pepper into fingernail shapes. Spread Hy-Vee original hummus on each red bell pepper piece and stick on as fingernails.

Clementine Pumpkin

Place a Hy-Vee Short Cuts celery stick in a Hy-Vee Short Cuts peeled Mandarin orange; tuck in a fresh basil leaf.

Eyeball Bites

Top Hy-Vee original snack crackers with crumbled blue cheese. Wrap strips of prosciutto around blue cheese and top each with a blueberry.

Caramel Apple Monster Shake

Satisfy your monstrous sweet tooth with our Caramel Apple Monster Shake with all the toppings.

Scary Black Cherry Slush

Use charcoal water to create a deep dark scary black cherry slushy.

Martini at Midnight

Create drifting fog by dropping a few dry ice cubes on top of this simple martini.