Primary Media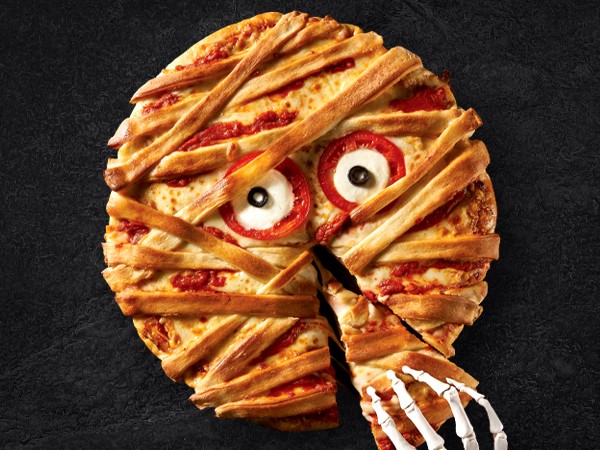 Description
This spooky Halloween season, have bloodcurdling fun with food, scare up everyone's favorites—pizza, dogs, burgers, spaghetti—and give them a creepy twist. Cheers to eating, drinking, and being scary. Bone appetit!
For even more spooky recipes, check out everything Halloween-related in our Halloween Guide.
Monster Deli Sandwich

It's spooky season, so skip the regular deli sandwich and make a Monster Deli Sandwich to scare your hunger away! 

Mummies in a Blanket

Every ghoul at your Halloween party will want to sink their teeth into these Mummies in a Blanket. 

Chocolate Truffle Spiders

Creep it real on Halloween with a batch of Chocolate Truffle Spiders. 

Brie Mummies

These Brie Mummies are almost too spooky to eat — almost! Prep in just 10 minutes to make an easy Halloween appetizer.

Bubbling Inferno Cocktail

Gather around the cauldron for a wickedly fun Halloween brew! This Bubbling Inferno Cocktail features dry ice that makes a bone-chilling fog.

Bloody Bite Burger

Split a Hy-Vee Bakery white hamburger bun. Cut 1 slice Hy-Vee provolone cheese into shape of teeth; set aside. Layer bun with butterhead lettuce leaves, white onion slices, and tomato slices. Add a Hy-Vee kosher dill sandwich pickle for the tongue, then top with a cooked beef burger and the provolone teeth. Drizzle with Hy-Vee ketchup and add a bun top. Use toothpicks to attach 2 Hy-Vee pimento-stuffed queen olives for eyes.

Jack-O'-Lantern Party Tray

Place carrot sticks, Hy-Vee cheeseballs, fresh blackberries, cheese and peanut butter sandwich crackers, cantaloupe cubes, Hy-Vee dried apricots, Hy-Vee pitted ripe olives, sliced orange bell pepper, Hy-Vee Cracker Cuts sharp Cheddar cheese, fresh blueberries, Hy-Vee pepperoni, multigrain crackers, Cheddar-flavored popcorn, crunchy cheese-flavored snacks, mandarin oranges, grape tomatoes, and sliced cucumber in the shape of a jack-o'-lantern on a circular serving tray.

Hand and Eyeball Punch

Fill round ice cube molds three-fourths full of refrigerated coconut milk; top each with a fresh blueberry. Using a toothpick, swirl a few drops of Hy-Vee red food coloring into the milk. Freeze molds. Fill a disposable glove with Hy-Vee grape-cranberry juice. Tie closed and freeze. Combine 1 (64-oz.) container chilled Hy-Vee grape-cranberry juice, 2-1/2 cups Hy-Vee 100% no-sugar-added pineapple juice, and 2 cups chilled Hy-Vee ginger ale in a large serving bowl. Remove disposable glove; float frozen hand and eyeball ice cubes in punch. 

Frankenstein Guacamole

Spread 2 (12-oz. each) containers prepared guacamole on a rectangular serving platter. Garnish with Hy-Vee blue corn chips for hair, cucumber and pitted black olive slices for eyes, Hy-Vee pretzels for mouth and scar, and cucumber pieces for nose and bolts.

One Bad Apple

Cut several holes in a red apple using a melon baller. Mix Hy-Vee hazelnut creamy spread with skim milk and cocoa to pipe into holes. Insert Granny Smith apple slices. Attach candy eyes to the apple slices with additional hazelnut creamy spread. 

Strawberry Ghosts

Insert lollipop sticks into fresh strawberries. Dip each strawberry into melted white vanilla-flavored melting wafers. Place on parchment paper allowing white coating to pool under each strawberry; then attach candy eyes. Let stand at room temperature until set, then serve. 

Shrunken Potato Heads

Preheat oven to 425 degrees. Carve faces into small yellow potatoes using a sharp knife and/or melon baller. Place potatoes on a baking sheet. Bake for 45 minutes or until potatoes are fork-tender and start to shrivel. 

Chicken Wing Vampire Fix-Up

Arrange 2 Hy-Vee Hickery House herb-roasted chicken wings on a serving platter to form a bat shape. Secure with toothpicks, if desired. Repeat for additional bats. Brush wings with hickory cracked-pepper BBQ sauce and coat with black sesame seeds. Add red bell pepper pieces for eyes and pitted black olives for ears. Serve with additional sauce, if desired. 

Count Linguine

Cook Hy-Vee linguine or spaghetti according to package directions; drain. Transfer pasta to serving plates. Spoon warmed Hy-Vee marinara pasta sauce on pasta. Add circles cut from a Hy-Vee Swiss cheese slice and Hy-Vee pitted black olive slices for eyes. Apply marinara sauce with a toothpick to create bloodshot eyes. Add red bell pepper pieces for mouth and horns and hard-boiled egg white for fangs. 

Bloody Finger Dogs

Trim one end of bun-length hot dog to fit Hy-Vee Bakery hot dog bun. On untrimmed end, carve an area for fingernail. To mark the finger joints, use a knife to make horizontal cuts. Cook hot dogs in skillet over medium heat until evenly browned and heated through. cut fingernail shapes from thin pieces of cooked white onion and insert the nails on the fingertips. Place hot dogs in buns and drizzle with Hy-Vee ketchup.

Serpent Breadsticks

Preheat oven to 375 degrees. Line 2 baking sheets with parchment paper. Unroll 1 (11-oz.) container refrigerated breadsticks. Separate into 12 strips. Roll each strip into 12-inches and wrap around a skewer. Place strips on prepared baking sheets. Spray with Hy-Vee nonstick cooking spray and sprinkle with black sesame seeds. Press Gustare Vita capers or sliced green bell pepper into dough for eyes. Add red bell pepper tongues. Bake for 10 to 13 minutes or until golden. 

Mac and Cheese Webby

Preheat oven to 425 degrees. Prepare Hy-Vee original macaroni and cheese dinner according to package directions; spoon into individual casseroles. Sprinkle Hy-Vee shredded sharp Cheddar cheese on top. Bake for 10 minutes or until cheese is melted. Let stand for 5 minutes. Pipe Hy-Vee sour cream on top in a spiderweb design. Create spiders out of Hy-Vee large pitted black olives and place on the web.

Mummy Pizza

Preheat oven to 425 degrees. Unroll 1 (13.8-oz.) container Hy-Vee refrigerated pizza crust; cut into 1-inch strips. Arrange strips on 1 large 14-inch Hy-Vee Take-and-Bake cheese traditional crust pizza; tuck ends under pizza. Spoon Hy-Vee pizza sauce between dough strips, if desired. Bake for 12 to 15 minutes or until top is golden brown and cheese is melted. Add tomato slices, fresh mozzarella cheese slices and Hy-Vee pitted black olive slices for eyes. 

Bone up on Treats

Make candy part of the centerpiece. Load a variety of wrapped candy around and through a skeleton. Or fill a jack-o'-lantern or witch hat with candy; let pour out of eye and openings or over the hat brim. 

Witch Cupcake

Cut an ice cream sugar cone in half crosswise; discard wide end. Dip cone in melted dark chocolate and place on the bottom of a Hy-Vee fudge-striped shortbread cookie. Sprinkle chocolate jimmies on hat and let dry. Place hat on a Hy-Vee bakery chocolate frosted chocolate cupcake. Pipe melted white chocolate and dark chocolate dots on cupcake for eyes. 

Brain Cupcake

Fill piping bag fitted with a large round tip with Hy-Vee creamy white frosting. pipe a line across the top of a Hy-Vee Bakery unfrosted vanilla cupcake. On each side of line, pipe thick, wiggly lines of frosting. Repeat layers twice. Combine 1 tablespoon Hy-Vee light corn syrup, 1 teaspoon That's smart! chocolate-flavored syrup and 6 drops Hy-vee red food coloring in a small bowl. Drizzle on top for "blood."

Count Chocula

Cut 1 Hy-Vee bakery chocolate0iced plain cake donut in half horizontally, then vertically. Tint Hy-Vee creamy white frosting with Hy-Vee red food coloring. Spread frosting on cut sides of donut. Sandwich Hy-Vee mini marshmallows between two donut sections. Using red frosting, attach split almond halves to the top of donut for fangs.

Bone Brownie

Cut a Hy-Vee marshmallow in half crosswise. Place a marshmallow half, sticky side down, on a Hy-Vee Bakery powdered sugar-topped brownie. Pipe melted white chocolate to shape skeleton. Pipe melted dark chocolate eyes and mouth on marshmallow. Let dry.

Spider Cookie

Using melted dark chocolate, attach two dark chocolate truffles to a Hy-Vee Bakery sugar cookie for the spider's head and body. Attach two Hy-Vee milk chocolate mini gems to one truffle for eyes. Pipe dark chocolate body features on the second truffle and spider legs on the cookie; let dry.

Pretzel Logic

Place a wire rack on a rimmed baking pan. Form individual stacks of Hy-Vee pretzel sticks on the wire rack. Pipe melted Zoet extra-dark chocolate with 85% cacao in the center of each to secure each stick; let dry. Pour additional melted chocolate on top, add candy eyes and let dry.