Primary Media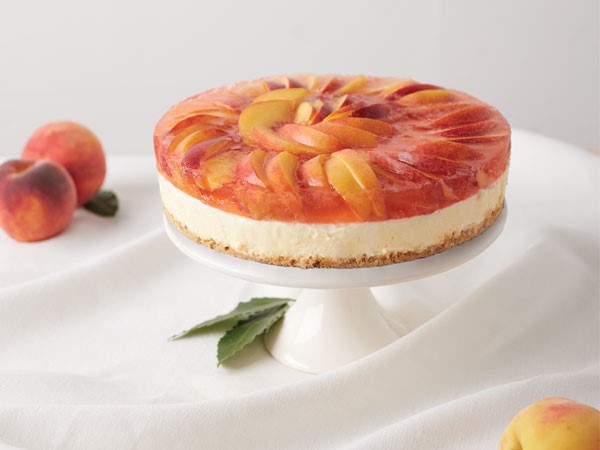 Description
While their home is in Colorado, these peaches have a strong connection to the Midwest. A high percentage of the farmers who originally established Colorado peach farms in the early 1900s came from Iowa! As an early marketing effort, they would send fruit back home to their families and friends. To this day, the Colorado peach season is an eagerly anticipated event at Hy-Vee.
Check out our favorite recipes featuring Colorado peaches, and get some peachy facts along the way.
Stone Fruit Summer Salsa

Colorado peaches will really sing amongst a fruity blend of plums, nectarines, and cherries.

These peaches are grown where the southwestern Colorado Plateau desert meets the alpine climate of the Rocky Mountains, an area that gets less than 10 inches of precipitation annually. Soil is fully dependent on snowmelt-fed rivers and streams to quench their thirst. 

Easy Peach Slab Pie

Use frozen puff pastry as a shortcut on this tasty summer treat. The peaches are the real stars, anyway!

As Colorado peaches approach maturity, warm days enable flavor development, and cool, arid nights enable flavor retention.

Fresh Peach and Strawberry Tacos

The fruit for these tacos is cooked on the grill, adding a whole new smoky complexity to their flavor profiles.

Colorado peaches are harvested as late as possible to maximize full flavor while still delivering a bruise- and blemish-free peach.

Grilled Pound Cake with Peaches and Cream

For this recipe, you'll toss your Colorado peaches in a mixture of brown sugar, orange juice concentrate, melted butter, cinnamon, cloves, and ginger. So tasty!

All of our Colorado peaches are packed in trays to help protect the quality of the mature peach in transit so you get fresh, unbruised fruit.

No-Bake Peach Cheesecake

We live for no-bake dessert recipes like this one in the summer.

Colorado peaches help improve digestion and keep skin smooth. They even help protect the body against aging and disease!

Peach Oatmeal Bars

All health, no guilt? We'll have these bars for breakfast, please!

Prep peaches for baking and cooking by removing the skin with a vegetable peeler or paring knife.

Peach Mojitos

Cross Keys rum is just the thing to bring out sweet peachy flavor.

The first Colorado peach was grown in 1882, but the first successful crop didn't appear until 1888.

Grilled Peaches and Chicken

The Colorado peach glaze on this chicken will be your new favorite thing. And it tastes great with goat cheese. Yum!

To pick the perfect Colorado peach at the store, make sure the flesh has a slight give but isn't too mushy.

Honey-Glazed Pork Chops with Grilled Peaches

Another meat that goes great with Colorado peaches? Pork! 

Peak Colorado peach season is June through August, aligning perfectly with prime grilling time.

Grilled Peach Sangria

Make this cocktail the night before, and you will enjoy the most amazing fruity flavor infusion. Grilled peaches add a unique smoky twist.

A large peach contains around 70 calories and 3 grams of fiber. So you can have your peach and drink it, too.

Peachy Goat Cheese Bites

Creamy, slightly sour goat cheese is a fantastic match for juicy, sweet Colorado peaches.

It is thought that the first peach was grown in China around 6000 B.C. We're pretty sure they weren't eating them with goat cheese then!

Peachy Keen Filling

An easy summer dessert: This Peachy Keen Filling over a couple scoops of vanilla ice cream.

In ancient China, peaches were said to symbolize immortality. They were probably also said to go great with ice cream! 😉

Instant Pot Peach Crumble

You'll love the aromas that come from your Instant Pot as this dessert cooks. 

Fun fact: The phrase "You're a peach" originated when people would give peaches to their favorite friends. Us giving you all these peach recipes must mean you're our favorite Hy-Vee shopper!