Primary Media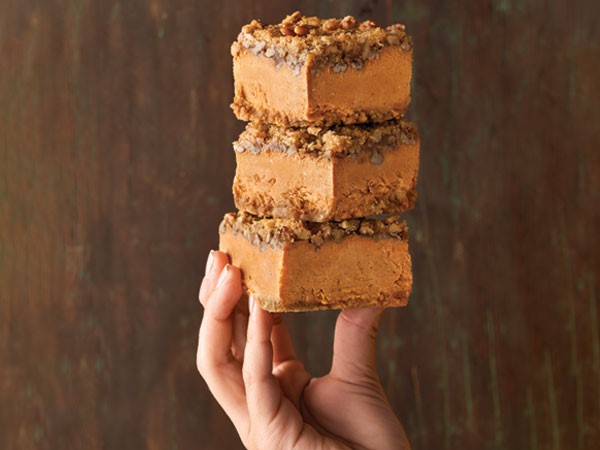 Description
When you think of fall flavors, you think of everything pumpkin... right? Us too! Maybe that's why we're so pump'd for our newest recipes featuring our favorite ingredient: pumpkin! Not only does it add extra flavor to drinks, appetizers, entrees, and desserts, but also a healthy dose of vitamin A. So go on, get your pumpkin on. For even more fall-inspired ideas, check out the digital edition of Seasons magazine.
Pumpkin Curry Chicken and Rice

Itching for a comforting pumpkin entree? How about our one-pot Pumpkin Curry Chicken with Rice? It's sure to hit the spot.

Pumpkin Grilled Cheese

One of the best things about pumpkin is that you don't have to cook or bake it. So, spread it on a few slices of bread, add some cheese, at grill to ooey-gooey perfection.

15-Minute Pumpkin Soup

Get a double-dose of pumpkin goodness when you pair pumpkin grilled cheese with a quick and easy 15-Minute Pumpkin Soup.

Pumpkin Smoothie Shooters

Blend-up canned pumpkin with yogurt and top with granola and fresh berries for a quick breakfast.

Pumpkin Churros with Chocolate Dipping Sauce

Did someone say churros?! That's right! You can use canned pumpkin to make a fall-flavored churros with a homemade chocolate dipping sauce.

5-Ingredient Pumpkin Pie

You don't need a pantry full of baking ingredients to pull off this pumpkin pie ... you just need 5-ingredients.

Pumpkin Waffles

Breakfast or dinner (we're not judging here), warm up with these pumpkin-spiced waffles topped with warm sauteed apples.

Pumpkin Spice Bread

Pull off this recipe with just 3 ingredients: canned pumpkin, boxed spice cake mix, and cranberries.

Pumpkin-Pecan Pie Bars

It's like the best-ever mash-up of pumpkin and pecan pie with a cheesecake bar twist. 

Pumpkin Butter

A fall must! Sweet, spiced pumpkin butter goes perfectly with waffles, pancakes, or even stirred in to a hot cup of Joe.

Pumpkin Latte

Speaking of Joe ... don't spend all your money on a hot spiced pumpkin late. You can make it yourself with a few ingredients and for waaayy cheaper.

Pumpkin Cheesecake Bites

One thing we love about this recipe (besides the having a great pumpkin flavor) it's no-bake and no-fuss.

Pumpkin-Maple Dressing

Toss a simple salad with our pumpkin-maple spiced dressing. You won't regret it.