Grilled Out
Grilling Things We Love
Tab Navigation
What every burger-loving Wahlberg fan should know...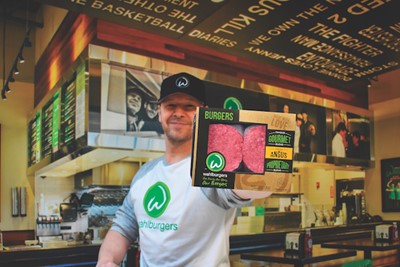 What every burger-loving Wahlberg fan should know...
If you don't have a Wahlburgers restaurant in your neighborhood, there's another way to sink your teeth into a Wahlburgers patty. Look for Wahlburgers at Home ready-to-cook burgers, toppings and condiments at your local Hy-Vee. 
Wondering What Kind of Grill to Get?
Gas Grill

Always at the ready, gas grills offer weeknight convenience.

Charcoal Grill

There's something special about the flavor charcoal grills bring.

Ceramic Grill

Ideal for grilling over an open flame or to smoke-cook meats.
See All Grills
For Beginners & Beyond
Here are 18 tips and techniques everyone should know before firing up the grill.
Get Tips
Hyvee Culinary Expert Tip

To get tender smoked foods from the grill, use indirect heat. On a charcoal grill, place the coals on one side; place an aluminum foil pan on the other, directly under where the food will cook. For a gas grill, heat with all burners on high, then turn one side of the burners off and place the food there.
How to Make Beer Can Chicken
How to Make Grilled Beer Brats
Hyvee Culinary Expert Tip

The secret to unforgettable burgers is to grind 1 pound of beef chuck flat iron steak in the food processor with a few tablespoons of butter. Season it with salt and pepper, form your patties, and get grilling.
Kicked Up Condiments
Kicky Ketchup

Blend 2 cups Hy-Vee ketchup; 1 serrano chile pepper, seeded and cut up; 1 teaspoon Sriracha sauce; 1/2 teaspoon liquid smoke and 1 clove garlic, minced.

Tangy Beer Mustard

Combine 1/3 cup Hy-Vee stone-ground mustard, 2 tablespoons stout beer, 1 tablespoon Hy-Vee honey and 1/2 teaspoon Hy-Vee Worcestershire sauce.

Creamy Garlic Aioli

Combine 1/2 cup Hy-Vee mayonnaise and 3 cloves garlic, minced; season to taste with Hy-Vee salt and Hy-Vee pepper.

Zesty Relish

Combine 1/4 cup chopped Hy-Vee dill pickles, 2 tablespoons finely chopped green bell pepper and 2 tablespoons finely chopped red onion.
Get More Condiment Recipes
Hyvee Culinary Expert Tip

First time making ribs? Remember to remove the membrane from the back. Just loosen it at the tail end, grip it with a paper towel, and peel it off in one piece. Or, your Hy-Vee butcher can do it for you.
How to Make Smokey Barbecue Ribs
Best Turf for Your Surf
Learn the best cuts for a mix-and-match surf and turf on the grill.
Get Recipes
How to Grill Cedar Plank Salmon
Hyvee Culinary Expert Tip

Remember to soak a cedar plank in water for at least 2 hours before grilling. For extra flavor, try adding wine or cider to the soaking liquid.
Grilled Watermelon with Minted Salsa Bites
Whoever thought grilled watermelon could taste so good? Strawberries, kiwi and mint tossed with jalapeno and lime create a spicy and refreshing treat that just seems to scream summer.
Main Ingredients
watermelon
feta cheese
fresh mint
More Grilling Recipes
Burgers for All

There's a burger for everyone. Find your favorite.

Get Recipes

Better Dogs & Brats

Get inspired to top off your brats and dogs.

Get Recipes

Foil Pack Meals

Easy sides and entrees that grill tucked inside a foil pack.

Get Recipes