Recipe
Primary Media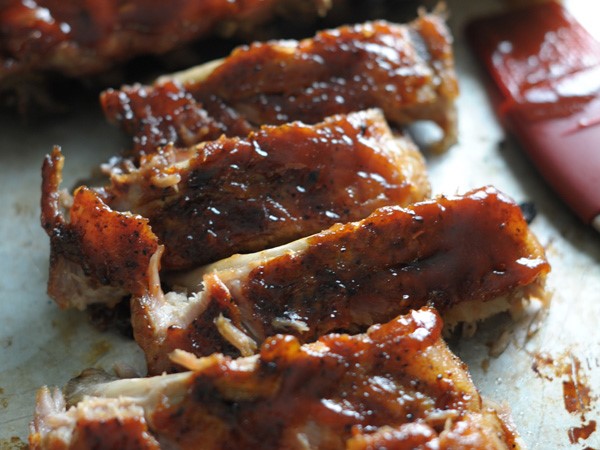 Description
On a nice day, there's really nothing better than hanging outside with the anticipation of smoked ribs on the grill. This is our tried and true method for bringing out the most robust flavor. Try them with an American Brown Ale or Malbec wine. 
Servings and Ingredients
Quantity
Ingredient
Add

2

racks pork loin back ribs (4 to 6 pounds total)
JB Fat Boy all-purpose rub, as needed
Wood chips, soaked according to package directions

1 c.

Hy-Vee apple juice, divided
Hy-Vee Hickory House barbecue sauce, as needed
Directions
Prepare a charcoal or gas grill for indirect cooking over low heat (250 degrees). Remove silver skin from back of ribs.

Season ribs with rub mixture and let stand at room temperature for 30 minutes before grilling.

To make a foil smoking packet, place about 2 handfuls of drained soaked wood chops on a 20-inch long sheet of heavy duty foil. Seal edges of foil and poke holes on top of foil to allow smoke to come out. Repeat process. Place foil packets, directly on heating element or charcoals (under grates) and allow to smoke 10 minutes.

Place rib racks, bone sides down, on grill rack on indirect heat side. Grill for 3 hours.

Tear off 2 sheets of heavy-duty aluminum foil, each about 2-1/2 times the length of a slab of ribs. After 3 hours of grilling, remove ribs from grill and lay each slab on a sheet of foil. Pour half the apple juice under each slab of ribs. Seal foil up and around ribs. Carefully remove and discard foil smoking packets from grill.

Return foil wrapped ribs to grill over indirect heat side. Grill for 2 hours more.

Carefully remove ribs from foil. Return ribs to grill over indirect heat side and continue to grill about 1 hour. During the last 30 minutes, brush ribs with barbecue sauce every 10 minutes.

Remove from grill and cover loosely with foil for about 20 minutes before serving.
Recommended Pairing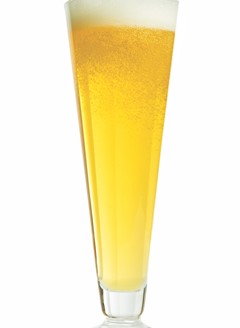 Recommended Pairing
American Wheat Beer
This style is typically packaged with yeast in the bottle and pours cloudy. Light amber in color with mild hop bitterness and moderate alcohol levels, it offers flavors and aromas of citrus fruit (not banana or clove). Pair with salads, seafood, chevre (goat cheese), and fruit-based desserts. Best served at 40-45 degrees in a flute.