Living
The Difference Between Charcoal, Gas, Ceramic, and Smoker Grills
Primary Media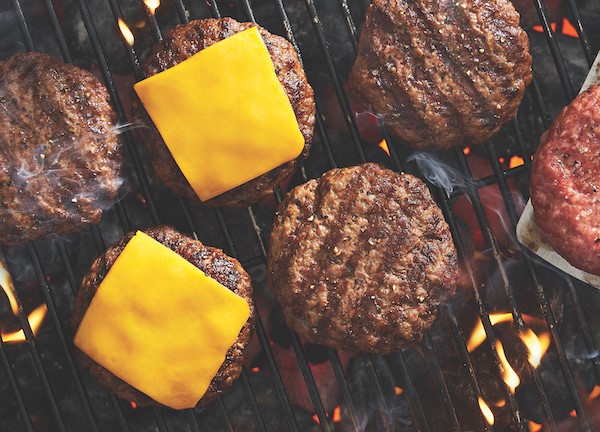 Description
In the market for a new grill? Or maybe you're looking to add to your collection. Here we show you the difference between charcoal, gas, ceramic, and smoker grills. For each grill, learn what kind of fuel is used; its heat capability; how it's designed; and what choices may be available at your local Hy-Vee.
For more grilling ideas, recipes, and tips, check out our complete Grilling Guide.
Charcoal Grills

There's something special about the smoky flavor of foods cooked on charcoal, especially steaks and other meat cuts that benefit from a crusty sear.

FUEL: Charcoal is the primary heat source and is available in natural chunks or charcoal briquettes. Wet wood chips are sometimes used for extra smoky flavor.

HEAT: These burn hot, which is great for searing. You can control the heat with charcoal distribution and vents.

DESIGN: The kettle design was introduced by Weber-Stephen in the 1950s. Today's has a porcelain enamel finish for better rust protection. Vents control temperature and the lid seals in smoke for flavor.

CHOICES: Hy-Vee carries the 22-inch Weber kettle in original and premium models, the latter has a built-in thermometer and cooking grate hinged on two sides to easily add charcoal.

Gas Grills

Always at the ready, gas grills offer the convenience of on-demand grilling for quick weekday meals.

FUEL: Gas grills are powered by either natural gas from a gas line hooked up at the residence, or liquid propane from a portable tank. A standard 20-lb tank should last about 18 to 20 hours.

HEAT: Gas grills feature adjustable temperatures, which are intensified with the lid down.

DESIGN: Gas grills have built-in warming racks and one or two side trays to hold food and utensils. A 2-burner grill is sized for individuals and couples. For larger families, 3-burner and 4-burner units are available.

CHOICES: Hy-Vee has a range of gas grill sizes and capabilities from companies such as Char-Broil and Weber-Stephen, as well as accessories and supplies.

Hyvee Culinary Expert Tip

An empty propane tank can be exchanged for a full tank at participating Hy-Vee gas stations.

Ceramic Grills

The versatile ceramic grill, also called a kamado, can be used to grill steaks over flame, smoke-cook pork, or smoke ribs using a ceramic insert.

FUEL: Ceramic grills generally use charcoal, and manufacturers recommend natural lump charcoal instead of briquettes for less ash.

HEAT: The dome shape and ceramic walls reetain heat to cook foods evenly from all sidese, not just the bottom. Dampers control air flow, so the grill holds very high and very low temperatures.

DESIGN: This ancient Asian-style grill has a thick-walled ceramic cooker which imparts rich smoky flavor. A range of cooking surface options include stainless-steel, cast-iron grates, soapstone for pizza, and a cast-iron griddle for stir-fries.

CHOICES: Hy-Vee has the Kamado Joe Classic II with an easy-open dome and a thick-walled, heat-resistant shell to lock in smoke. The multi-level, half rack design creates heat zones to cook a range of foods simultaneously.

Smoker Grills

Smokers create an authentic barbecue taste by maximizing the amount of smoke that penetrates the meat.

FUEL: Traditionally, smokers have used wood, charcoal, or a combination of the two. Charcoal might be used to start the fire and once hot, wood chips are added for flavor. Recently, pellets have gained popularity. One bag provides 20 hours of grilling and 40 hours of smoking.

HEAT: Smokers operate with indirect heat. Because they maintain a consistent low temperature, they're well suited to cooking over long periods of time, resulting in tender, flavor-packed meat.

DESIGN: The offset smoker is a popular design with two chambers, a cooking chamber and a firebox, where fuel is burned. Heat and smoke enter the cooking chambere then slowly circulate to cook the food.

CHOICES: Hy-Vee carries a smoker for every need, from a small portable unit for to medium-size to the 34-inch Pro Series Smoker. Shown above is the Davey Crokett with a WiFi enabled controller.

Hungry yet? Browse our collection of grilling recipes for the next time you fire up the grill.