Food Love
9 Foil Pack Recipes for Grilling (and Clean Up) Made Easy
Primary Media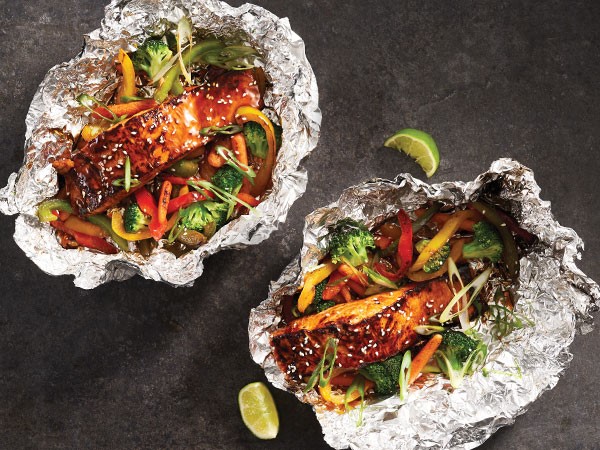 Description
Foil packet cooking is popular for a number of reasons, with the best one being that everything cooks together in one pouch. Second best reason: There's little to no cleanup. Third best: They're easy to customize with different combinations of veggies and seasonings. Our favorite veggies to use typically consist of Hy-Vee Short Cuts pre-chopped produce to make prep time a breeze! The only question that remains: Why aren't we doing this every night? 
To adapt any of these recipes for the oven: Set the oven to 375 F and bake the foil packets until the meat reaches a desired temperature and the vegetables are fork-tender, about the same amount of time specified in the recipe.  
Shrimp Boil Foil Packets

All the flavors of your favorite shrimp boil, minus the mess.

Short Cuts Veggie Grill Packet

Foil Packet Grilled Chicken and Vegetables

This is the easiest grilling recipe you'll ever meet. Wrap these 6 ingredients in foil and grill for 25 minutes.

Cheese Steak Packets

Sliced sirloin, onions, and cheese all cook and melt together in a toasted bun. 

Foil-Pan Salmon and Veggies

Why do we love this recipe? We pre-steamed the Hy-Vee Short Cuts veggies so when we add them to the foil pan and grill them, everything is perfectly cooked and done at the same time.

One-Pouch Feast

We love this combo because the sausage flavors all the veggies while it cooks. 

Lemon-Butter Veggies

These buttery veggies take about 15 minutes on the grill. Depending on what else you're grilling, they may need a head start. 

Grilled Philly Cheese Brats

It's basically 2 of our favorite foods in 1. And with just 4 ingredients. 

BBQ Chicken and Cheddar Foil Packet Dinner

An entire chicken dinner in one foil packet. Winner, winner.

BONUS RECIPE

Learn to perfectly cook fish in parchment paper. Get the recipe and technique for "en papillote," which means, "in paper."