Primary Media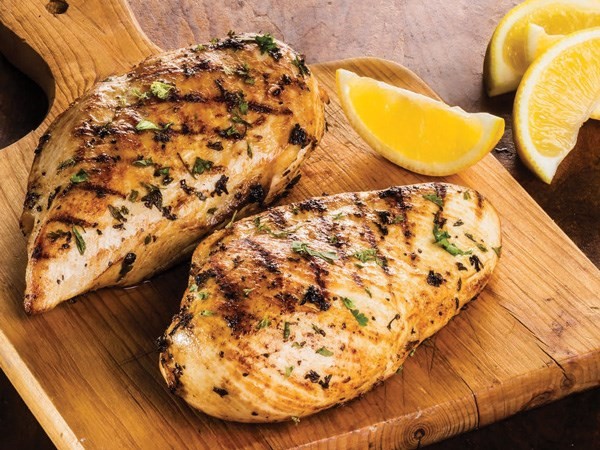 Description
Lemon and chicken go together better than peas and carrots. Don't believe us? Try any of the recipes below and we promise you won't see any sour faces at the dinner table.
Baked Lemon Chicken

If you're looking for easy but super flavorful, this is it. We used chicken drumsticks for this recipe, but you could also use breasts or thighs. But no matter what cut you use, it will be even more delicious dunked in our Roasted Garlic Yogurt Everything Sauce. 

Lemon Chicken Quinoa Bowls

A favorite for Sunday night meal prep, try ramping up your lunch or dinner game by batch cooking this zesty combo of grains, veggies, and lemony marinated chicken.

Ginger-Lemon Chicken-Noodle Soup

A comforting take on sweet-and-sour soup, this soothing and detoxifying soup really does soothe the soul.

Spicy Lemongrass Citrus Chicken

One way to add a ton of lemon flavor without all the lemon squeezing is to use lemongrass paste. It tastes exponentially better than bottled lemon juice and has a shelf-life that out lives lemons by a long shot. 

Tuscan Lemon Chicken

The marinade on this chicken is worth the 2-hour wait. It's a combination of white wine, lemon, olive oil, and herbs, and it will definitely change the way you grill chicken.

Instant Pot Lemon Chicken

If you've invested in an Instant Pot, this is the lemon chicken recipe for you. All you need are four simple ingredients plus water and you'll have a whole cooked chicken an an hour. 

Chicken with Thyme and Lemon

If you don't have an Instant Pot, that's ok. This recipe doesn't take much longer and yields a whole beautiful roasted chicken smothered in citrus, garlic and fresh rosemary,

Lemon Herb Grilled Chicken

How to grill a whole chicken: Rub with herb butter, stuff with lemon, and grill. 

Lemon Chicken over Veggie Noodles

Low carb lovers, this one's for you. Actually, it's pretty much for anyone who likes delicious lemony chicken. It's marinated in a lemon-zest infused yogurt before getting baked and served over veggie noodles.