Primary Media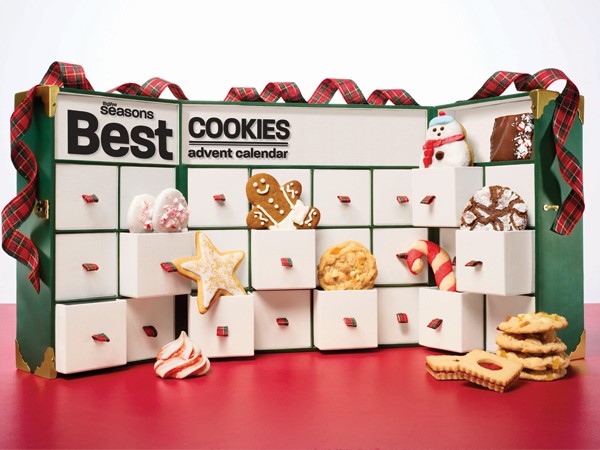 Description
It's cookie season and the countdown has begun! Double down on creating a sweet smorgasbord to wow family and friends alike. We searched through the Seasons archives to come up with 24 awesome cookies worthy of an encore. One taste and we think you'll agree!
Looking for even more Christmas cookie ideas? Get all the recipes, tips, and tricks you need to make your best-ever Christmas cookies in our Christmas Cookies Guide.
Peanut Butter Star Cookies

Chewy peanut butter and chocolate goodness. 

Peppermint Bars

These are the perfect minty holiday dessert. 

Glazed Spritz Cookies

Have fun decorating these buttery cookies.

Spice Cookies

Sugar, spice, and everything nice!

Macaron Snowmen

You gotta try making these adorable snowmen. 

Double Chocolate Espresso Crinkles

Classic Cutouts

From snowmen to trees, make a winter wonderland. 

Strawberry Cream Cheese Cookie Bars

Indulge in these creamy cookie bars. 

Brownie Sandwich Cookies with Sprinkles

Bring a sprinkle of joy to the holidays with this recipe. 

Raspberry-Almond Thumbprints

Take a bite of these buttery, jam-filled cookies. 

Candy Stripe Meringue Cookies

These cute cookies will be the star of the cookie tray. 

Macadamia Island Drops

Make these for a tropical escape. 

Melting Snowmen

They might be melting, but they're delicious and cute. 

Holiday Wreaths

Holiday baking just got easier with this store-bought cookie recipe. 
Dip purchased fudge and marshmallow cookie pinwheels into melted Hy-Vee Select 60% cacao bittersweet chocolate baking chips.
Sprinkle with Over the Top glam green sanding sugar and sprinkles; add red decorating candies. Let stand until set.

Polar Bears

Buy the cookies and decorate—it's that easy.
Dip Hy-Vee sandwich crème cookies and mini chocolate sandwich cookies into melted Hy-Vee vanilla almond bark. Place smaller dipped cookies on top of larger dipped cookies to create bear faces. Dip small white gumdrops in melted
almond bark and attach for ears.
Add Hy-Vee milk chocolate mini gems for eyes and crispy candy-coated chocolate pieces for noses.
Let stand until set.

Red Velvet Cake Cookies

Your favorite cake in cookie form. 

Candy Cane Cookies

These are probably the most festive and fun cookies to make. 

Lemon Thumbprints

These cookies are made with cake mix. 

Jam Sandwich Cookies

Everyone will love these jam sandwiches. 

Ombre Sugar Cookies

Have fun with color when you make these cookies. 

Yeti Chow Cookies

Frosted Eggnog Cookies

Dip these into your eggnog for the ultimate treat. 

Peppermint Bark Cookies

Combine peppermint bark and cookies in this recipe. 

Gingerbread Cutouts

Gingerbread cookies are classic, and the kids will love decorating them.