Primary Media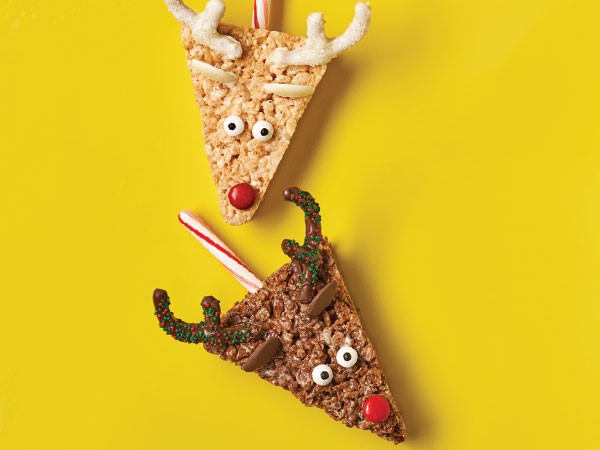 Description
That's how the song goes... right? Spread a little Christmas cheer with 12 super-cute treats that kids will be excited to help make.
Naturally Sweet Candy Cane

Cut strawberries and bananas into slices; arrange slices into a candy cane shape, alternating fruits. Serve with Hy-Vee fruit dip, garnished with fresh mint leaves.

Tasty Waffle Tree

Tint waffle batter green and bake in a round waffle baker according to manufacturer's directions. Arrange slices in a tree shape; add a blueberry trunk, berry ornaments, and star-shaped butter on top. Drizzle with syrup.

Strawberry Santa

Cut a large round from a peeled apple using a cookie cutter. Cut a strawberry in half crosswise; pat dry and attach to apple with frosting. Pipe on Hy-Vee creamy white frosting for Santa's beard and the fur trim and pom pom on Santa's hat. Use frosting to attach candy eyes.

Star of the Snacks

Arrange five Keebler Pita Chips in a star shape. Scoop Hy-Vee guacamole into center, then top with diced tomato and thin strips of red bell pepper.

Banana Penguins

Dip half of a banana into melted white chocolate. When chocolate is set, dip the tip into melted dark chocolate; brush more dark chocolate onto the sides. Add whole Reese's Pieces for feet. Finish with candy eyes and mini chocolate chips.

Hot Cocoa Hangout

Skewer a Reese's miniature peanut butter cup and three Hy-Vee marshmallows onto a standard-size candy cane. Poke a toothpick into marshmallows and attach sprinkles for eyes and buttons. Attach an orange Twizzler twist for the nose and a red Fruit Roll-Up scarf.

PB & J People

Make a PB & J sandwich using Hy-Vee wheat sandwich bread, Hy-Vee peanut butter, and Hy-Vee strawberry jelly. Cut sandwich with a gingerbread cutout, using a cookie cutter. Add peanut buttons, a dried apricot cutout bow, raisin eyes, and jelly lips.

Snowball Toss

Prepare cake crumb-frosting mixture according to the Cake-Ball Christmas Tree recipe. Shape into 24 (2-inch each) balls. Roll balls in Hy-Vee shredded coconut.

Edible Snow Globe

Spread Hy-Vee cream cheese on cut sides of a split bagel. For snow, sprinkle Hy-Vee grated Parmesan cheese on cream cheese layer. Cut house sections out of red and green bell peppers and press into bagel top. Use toothpicks to support snow globe.

Deli-icious Tree

Cut four sizes of stars from toasted Hy-Vee white bread, American cheese, and deli ham. Cut a smaller star and a trunk from a block of Hy-Vee Cheddar cheese. Skewer the cutouts as shown, tucking greens in between sandwich layers. Add cheese star on top and trunk at bottom.

Lunch Box Buddies

Using a marker, draw a face onto the wrapper of a Hy-Vee light mozzarella string cheese stick. Tie a ribbon around the cheese stick to form a scarf. Cut a fingertip off an old knitted glove; place on top of cheese stick for a hat.

Red-Nosed Reindeer

Create these Red-Nosed Reindeer out of rice crispy treats to add a fun holiday flare.