Primary Media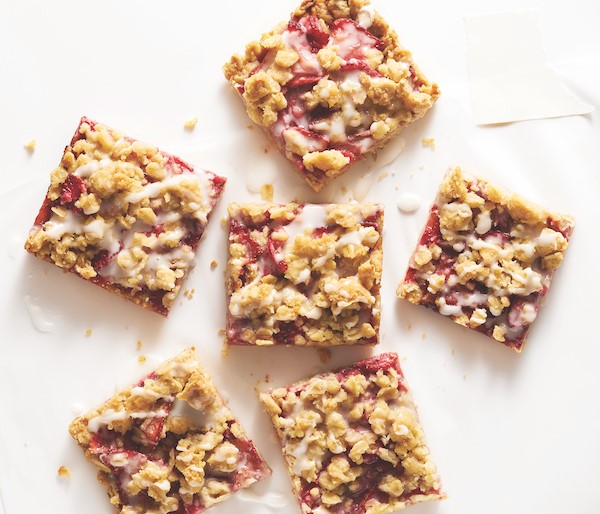 Description
Strawberries like you've never had before—in chewy, gooey bars and tucked into dessert tacos—these are the recipes that will change the way you eat dessert. 
Fresh Peach and Strawberry Tacos Recipe

Fruit tacos? Once you try them, you'll wish you had these in your life sooner.

Strawberry Pretzel Pie Recipe

Get the recipe for everyone's go-to potluck dessert.

Layered Berry Angel Food Cake

Believe it or not, our quick and simple take on classic angel food cake only takes 15 minutes to make.

Strawberry Banana Almond and Nutella Sandwich Recipe

Why not put all your favorite things on a sandwich?

Strawberry Shortshake Milk Shake Recipe

With a strawberry Pop Tart, of course.

Strawberry Oatmeal Squares Recipe

You won't feel guilty filling up on these bars.

Strawberry-Rhubarb Gooey Bars Recipe

A tried-and-true combo creates a luscious dessert filling.

Strawberry Ice Cream Pie Recipe

Stick this pie in the freezer while you enjoy your main meal. It'll be ready in time for dessert!

Strawberries and Cream Semifreddo Recipe

A must for entertaining, "semifreddo" translates to "semi-cold" in Italian. 

Gluten-Free Strawberry-Orange Chocolate Waffles Recipe

Chocolate. Orange juice. Honey. Berries. You're sure to be the hero of your next brunch.

Strawberry-Pineapple Wine Slushee Recipe

Three of your favorite things in one tropical cocktail.

Patriotic Berry Trifle Recipe

Perfect for the Fourth of July...or any day, really.

Double Chocolate Berry Tart Recipe

This elegant tart is a guaranteed showstopper.