Primary Media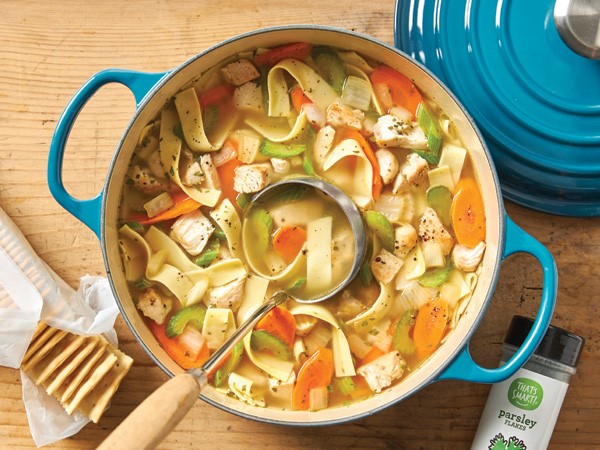 Description
We've all been there: Craving home-cooked comfort food but not wanting to spend a crazy amount of money to satisfy that craving. Maybe that's what made us create all of these budget-friendly recipes. Our secret weapon: Budget-friendly That's Smart! ingredients. We've got recipes for lasagna, casseroles, mac and cheese, and so much more. With these recipes, you won't break the bank shopping for all the ingredients.
Chicken Noodle Soup

Fill your stockpot with That's Smart! ingredients to make a budget-friendly, and super comforting, pot of homemade chicken noodle soup.

Mac and Cheese

Smarter comfort food is easy to achieve when you combine That's Smart! frozen mixed vegetables and mac and cheese. 

Lasagna

Did you know you could use That's Smart! ingredients to make a lasagna your family will love? Well, now ya know!

Chicken Divan

There's a reason this recipe has stood the test of time. Spaghetti, broccoli, and chicken tossed with a creamy cheesy sauce: That's Chicken Divan! Plus, when you use That's Smart! ingredients, this classic pasta and chicken dish becomes even more affordable. 

Pasta and Sausage Bake

The best casseroles and bakes are quick, easy, and require just a few ingredients. Combine cooked elbow macaroni pasta and Andouille sausage (plus a few other ingredients) for a budget-friendly weeknight dinner.

Pizza Pasta

Pasta that tastes like pizza? That's Smart! Especially when you use our budget-friendly That's Smart! products.

Chicken Pot Pie

Is there anything more comforting than chicken pot pie? We didn't think so. We made it easier than ever by using 4 ingredients to make our version of a classic recipe.

Broccoli, Chicken, and Rice Casserole

Comfort food made smarter, with That's Smart! products. 

One-Pot Cajun Pasta

The best part about this creamy Cajun-inspired pasta is that it comes together in just one pot! Even better: You can control the spice level by adding as much (or as little) Cajun seasoning as you like. 

Tuna Noodle Casserole

A few That's Smart! pantry staples are all you need to make this comforting and classic Midwestern tuna and noodle casserole. 

Loaded Ham, Potato, and Swiss Casserole

Ham, potatoes, and Swiss cheese... how could you go wrong?! The answer: You can't! Especially when you're using That's Smart! budget-friendly ingredients. 

One-Pot Chili

When you're having a comforting bowl of chili for dinner, you know it's going to be a good night. Use That's Smart! ingredients to make this one-pot chili in just 30 minutes.

One-Pot Spaghetti and Meatballs

Work smarter, not harder. That's what we did when we created the easiest-ever spaghetti and meatball recipe. Why? Because it comes together in just one pot.