Primary Media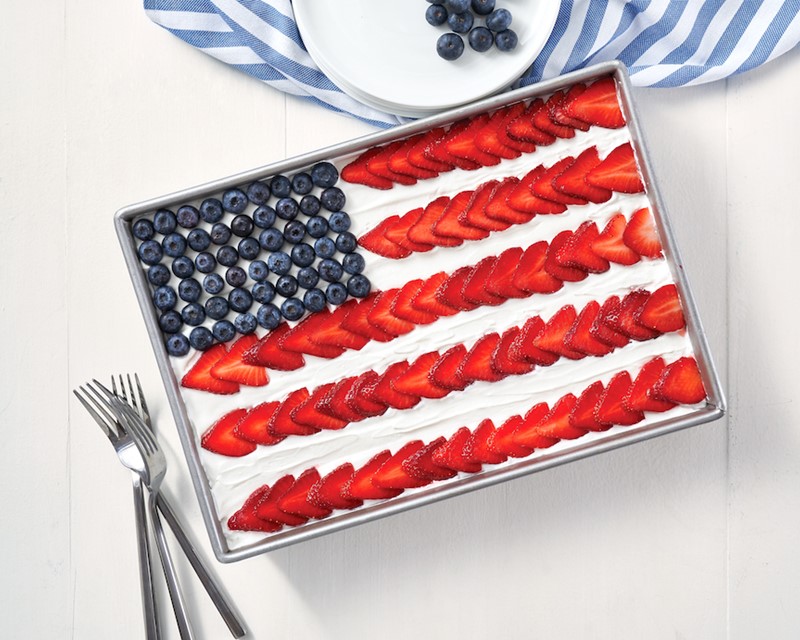 Description
We've had some fun with Fourth of July recipes over the years. But these are the ones we turn to year after year. 
Stuffed Strawberries

This party-popping berry recipe is as easy as it looks. Only three ingredients: strawberries, whipped topping, and blueberries.

American Flag Parfaits

Whether you're a health nut or in need of a light breakfast after a big cookout, this vanilla-ie chia seed "pudding" will do the job.

Red, White and Blue Rice Cereal Treats

It's the classic recipe, only more colorful. Note: We made these in three separate 8x8 baking pans.

Star-Studded Gelato Desserts

One of our favorite sundae toppers is made from store-bought puff pastry. Just cut out the stars with a cookie cutter and bake. And don't forget the Cherry Bomb on top.

Fourth of July S'mores

For the ultimate American experience, make these marshmallows into gooey s'mores.

Easy Star-Shaped Ice Cream Bars

This sugar cookie recipe is good on its own, but we all know ice cream makes everything better. 

Sparkling Ice Cream Cake

Check out the center of this cake! Cake balls inside a cake—how meta. A 9x13 cake from a box mix or from scratch is just the right amount of cake for the cake balls inside. 

American Pies

Here in the Hy-Vee test kitchen, we practically worship ready-to-bake pie crusts. 

Red, White, and Blue Dipped Strawberries

Not just for Valentine's, chocolate-dipped strawberries can be a refreshing patriotic treat. 

Firework Cupcakes

Fair warning, this is not actually a recipe, but more of an idea. Also, we don't recommended eating any cupcakes that have had a sparkler in them. So remember to get extra.

Classic Berry Flag Trifle or Cake

If you don't have a trifle dessert stand yet, it's time to invest. This beloved classic isn't going anywhere. Otherwise, bust out the 13x9-inch baking dish and dig into a pudding cake.

Mixed Berry Sangria

It's a combination of Moscato, champagne, apple juice, and lots of fruit, but it's really all about the star-shaped apple garnish.

Red, White, and Blue Cocktails or Slushies

These drinks are all about the colored sugar rim, a quick trick that only takes a couple minutes.

Best Fourth of July Burger

Can't let a summer holiday go by without burgers on the grill. This one was designed especially for the Fourth. 

Cute Flag Cupcakes

Need a cute and quick cupcake decorating idea? This is it. You can even buy the cupcakes already frosted to save time.

Red, White, and Blue Jell-O Pie & a Shot

If you're gonna have Jell-O at the picnic, it better be in a pie or a Jell-O shot. Seriously, the combination of the honey graham crust with the sweet Jell-O is oddly delicious in this pie.