Food Love
15 Street Food Dessert Recipes for When There's No Fair in Town
Primary Media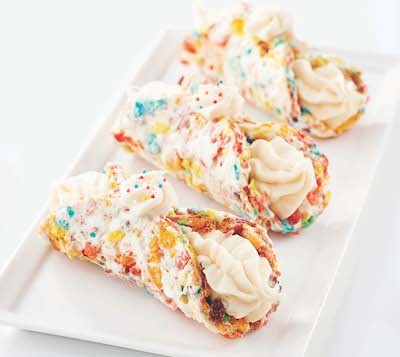 Description
From rainbow shaved ice recipes to crepes and caramel corn, bring all the joys of street food desserts to your kitchen—without ever waiting in line. 
Rainbow Shaved Ice

Go on, add extra syrup if you want. They're all yours to make. 

No-Churn Lavender Earl Grey Ice Cream

No churn and less than 5 ingredients? Skip the food truck and make this subtly sweet ice cream in your own kitchen.

Fruity Cannoli

It's not exactly traditional, but it's pretty fun to make and eat.

Toasted Coconut Ice Cream

If you have an ice cream maker that hasn't been used in ages, get it out. This homemade Thai-inspired coconut ice cream recipe is better than anything you can buy from a vendor.

Margarita Zingers

If a margarita could be a soft and delicious sandwich cookie, it would be this. 

Sweet and Spicy Holiday Caramels

Caramels aren't just for the holidays any more. Make your own batch of sweet and slightly spicy chewy caramels.

Bacon-Caramel Corn

The smell of popcorn, bacon and caramel wafting through the kitchen is reason enough to make a batch of this street food snack.

Chocolate Waffles

Chocolate lovers and waffle lovers, meet your street food match. And it true street vendor style, don't forget to top it with all kinds of crazy-delicious options: grilled peaches, pie filling, maple ice cream ... to get the ball rolling.

Fruit and Cream-Filled Crepes

If strolling along Paris sidewalks and stopping for street food crepes isn't on your itinerary, luckily you have a recipe for crepes.

Grilled Donut Ice Cream Sandwiches

You will love everything about this fresh from the grill ice cream sandwich. Guaranteed. 

Belgian Waffle Sandwich Cookies

This recipe is as easy as making buttercream and sandwiching it between two Culinary Tours Belgian waffle cookies.

Easy Baklava Croissants

Traditionally made with layers of filo dough and filled with nuts and honey, baklava is a work of pastry art. But we also have this handy shortcut version using fresh mini croissants, nuts, honey and spices. 

Icy Yogurt Pops

Cool off with easy homemade icy pops, and keep experimenting with different flavors.

Fruity Sushi

This playful and sweet approach to sushi is equal parts fun and kid-friendly.

Dutch Letters

Flakey, crispy, buttery pastry filled with sweet, sweet almond paste. We'll take two.