Primary Media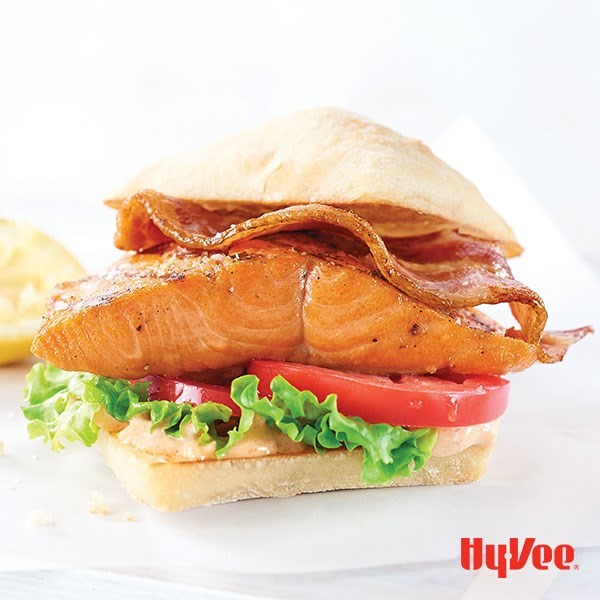 Description
There are a number of ways to cook salmon, and you'll find them all right here. Whether you brought home a 1- or 2-pound fillet or several 4- to 6-ounce fillets, we'll show you how to grill, roast, steam, or pan-fry salmon like a pro. 
Also see, 15 Salmon Recipes to Get You Out of a Seafood Rut.
2-Pound Salmon Fillet in the Oven

Salmon should be cooked to an internal temperature of 145 degrees F. However, it's important to remember that it will continue to cook for several minutes after removing it from heat. To prevent overcooking, remove the salmon 1 to 2 minutes before it's done and cover with foil. 

A 2-pound salmon fillet will cook in about 20 minutes in a 425-degree oven. 

At 450 degrees, Oven Roasted Salmon will take about 15 minutes. 

Hyvee Dietitian Expert Tip

It's recommended to eat at least 8 ounces of seafood per week. (For pregnant women, the recommendation is between 8 and 12 ounces per week.) Choose low-mercury seafood that's high in omega-3 fats. Salmon, anchovies, herring, sardines, trout, and Atlantic and Pacific mackerel are all good choices.

1-Pound Salmon Fillet in the Oven

A 1-pound salmon fillet (about 1/2-inch thick) takes about 8 to 10 minutes in a 425-degree oven.

5-Ounce Salmon Fillets in the Oven

At 375 degrees, 6 fillets that are about 5 ounces each will take about 10 minutes in the oven.

6-Ounce Salmon Fillets in Parchment Packets

Cooking salmon in parchment paper in a 425-degree oven takes about 15 minutes. By steaming the salmon in the pouch, you're pretty much guaranteed a tender, flakey fillet. Get step-by-step instructions below.

4-Ounce Salmon Fillets on the Grill

Grilling individual portions of salmon is nearly the same as grilling a larger 1-pound fillet. You still want to pat the fillets dry and brush them with oil before placing them on a greased grill rack. The only difference is that they may cook a little faster than a larger fillet. Start by grilling them skin side up for 3 minutes, then flip and grill for about 3 more.

1-Pound Salmon Fillet on the Grill

Before cooking salmon on the grill, you'll want to pat it dry with a paper towel, then brush the fish with oil. Also remember to grease the grill rack to prevent sticking.

Grill over medium (not high) direct heat for 4 minutes on each side. 

1-Pound Salmon Fillet Grilled on a Plank

Using a cedar plank to grill salmon not only prevents the fish from sticking, the plank also infuses a woodsy, smoky flavor. Planks must be soaked in water before being placed on the grill. And if you're using low heat, you can add even more flavor by soaking the planks in wine, beer, or cider.

Hyvee Culinary Expert Tip

Remember to soak a cedar plank in water for at least 2 hours before grilling. For extra flavor, try adding wine or cider to the soaking liquid.

4-Ounce Salmon Fillets in a Pan

For this recipe, we pan fried 4 4-ounce fillets in 2 tablespoons of oil (we used avocado oil, but any cooking oil will do). Cook the fillets for 2 to 3 minutes per side. That's it. 

1-Pound Salmon Fillet Under the Broiler

Broiling salmon is another quick way to get dinner on the table. Make sure your oven rack is about 6 inches away from the broiler. Once you put the salmon under the broiler, keep a close eye on it. It will cook fast, in about 5 or 6 minutes. 

Salmon Burgers on the Grill

You can buy a variety of different pre-made salmon burger patties at Hy-Vee. Simply grill them for about 5 or 6 minutes per side or until they reach an internal temperature of 145 degrees F.