Food Love
Top 15 Salmon Recipes to Get You Out of a Seafood Rut
Primary Media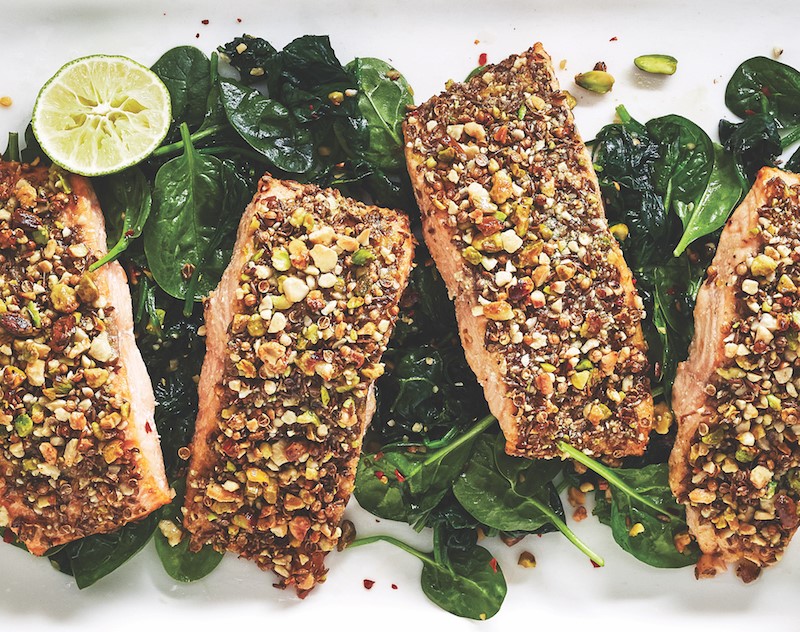 Description
There's a reason your Hy-Vee dietitian recommends eating seafood twice a week, and especially salmon. It's rich with heart-healthy omega-3s, high in protein, and really delicious. But knowing how to season and prepare it is key. The good news is, it's easier than you think.
When you see the Responsible Choice logo on Hy-Vee seafood, that means it's rated as either a "Best Choice" or "Good Alternative" by the Monterey Bay Aquarium's Seafood Watch program, or is certified to an environmental standard benchmarked to these ratings. Our Responsible Choice logo guarantees the species are abundant in the ocean or are farmed in an environmentally safe manner.
Also be sure to check out: 3 Kinds of Seasonal Salmon and Why We Love Them So Much 
Pesto Roasted Salmon

With this keeper of a recipe, you can cook a 1-pound salmon filet with beautifully roasted beets in under 30 minutes. 

Salmon with Pineapple Salsa

Unless you love chopping up whole pineapples, we recommended buying the Hy-Vee ShortCuts pineapple chunks in the produce department. We're all about keeping it simple.

Berry-Farro Salad

Farro? Yes. This nutritious whole grain has a nice, chewy bite and is a great option if you're sick of rice. 

Walnut-Crusted Salmon

Get a double dose of omega-3s by adding walnuts to your salmon.

Honey Glaze Salmon with Zoodles

Don't have a spiralizer? That's ok, look for pre-packaged zoodles in the produce department. 

Chili-Rubbed Salmon

This one's a must-try. It's the smoky-sweet combo, and it just doesn't get much better than this recipe. 

Parmesan Crusted Salmon

Cheese lovers, get ready for this. Turns out, you can combine cheese and seafood, and it's really good. 

Dukkah-Crusted Salmon

A quick way to elevate your salmon skills is to bust out this Egyptian spice blend. 

Grilled Salmon and Asparagus

The name sounds boring, like every other salmon dish, but this filet is grilled with sesame oil and topped with a lovely ginger vinaigrette. 

Asian Glazed Salmon

Sesame seeds are optional here, but take our advice and toast about a teaspoon of seeds in a small pan before sprinkling them all over your dish. 

BBQ Salmon

We love it on chicken, so why not on salmon? 

Grilled Salmon BLTs

BLTs. It's the classic sandwich we don't eat enough of. But it's even better with salmon.

Salmon and Sweet Potato Salad

We're good with any salad that has planked salmon and sweet potatoes. 

Salmon Nicoise Flatbread

It's a salad served on a flatbread. So there's no shame in tearing and dipping in your dressing.

Grilled Salmon Burgers

Meet the burger game-changer.