How-to Article
How-To
How to Roast Salmon in Parchment
Primary Media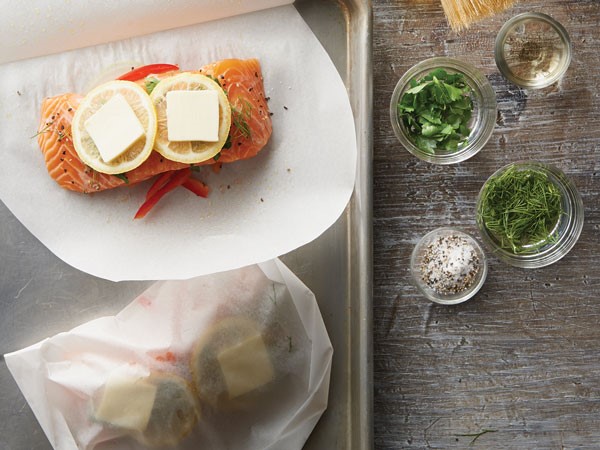 Description
Technically, this dish is called Salmon en Papillote. "En Papillote" means "in paper." It's a type of cooking method that gets its name from steaming inside parchment paper and it works beautifully for salmon. We love this recipe because salmon is a good source of heart-healthy omega-3 fats as well as vitamin D (good for bone health and calcium regulation) and selenium (a powerful antioxidant that's beneficial for thyroid gland function).
Find everything you need to make this easy dinner at your local Hy-Vee or shop online for curbside pickup or delivery.
Directions
Cut out a large piece of parchment paper and fold in half. Cut into a heart shape.

Place salmon close to the fold on the paper. Season with dill, parsley, salt, pepper, and a splash of white wine or lemon juice.

Top fish with lemon slices and two thin slices of Hy-Vee unsalted butter.

To close the packet, tightly fold the curved edge. Slightly tent paper over the salmon. Place salmon packets on a large baking sheet.

Bake for 15 minutes at 425 degrees. Serve pouches on plates, allowing each person to open their own Salmon En Papillote.
Help us make this page better!