Entertaining
15 Great Grilled Recipes and Their Beer and Wine Pairings
Primary Media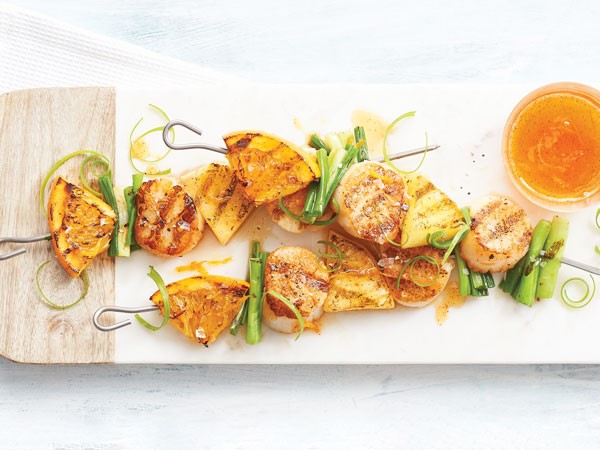 Description
Discover the beers and wines that make grilling so great.
Peppercorn Rib Eye Steaks

Pair this juicy steak with an Aperican IPA or Malbec wine.

Mediterranean Vegetable Stack

These grill charred vegetables are a perfect match for German Schwartzbier beer or a French Pinot Noir wine.

Grilled Coffee-Marinated Pork Chops

This espresso-marinated coffee pairs well with a Black IPA beer or Zinfandel wine.

New York Strips with Steakhouse Toppers

Get the entire steakhouse experience including beer and wine pairings. Pair with an Amber Ale or Cabernet wine.

Jerk Chicken with Mango Salsa

Minimize the heat by pairing with Oktoberfest, Dunkel, Bock, or an IPA. For wines, we suggest a Sauvignon Blanc or Rose.

Grilled Molasses Pork Ribs

Enjoy these sweet and sticky ribs with a bottle of American Amber beer or glass of Pinot Noir wine.

Grilled Scallop and Fruit Kabobs

Enjoy these sweet kabobs with a Pale Ale beer or glass of Rose wine.

Honey Sesame Seed Grilled Chicken

Bring out the sweetness of this chicken with a Light Lager, Belgium Witbier or American Wheat Ale. Or pair with Pouilly-Fume, Riesling, or Chardonnay wine.

Peppered Beef Kabobs with Blue Cheese Sauce

Pair with an IPA or accentuate the steak and sauce by pairing with a Merlot Wine.

Hyvee Culinary Expert Tip

A pairing that really opened my eyes to the idea of beer and food complimenting each other is Goose Island IPA with bleu cheese. The bold flavors of the cheese and the hops work great together.

Chipotle-Orange Chicken and Vegetable Strips

This smokey sweet flavor pairs well with a Blonde Ale, Pale Ale, or American Pale Lager. Or Reisling, Chablis or Chardonnay wine.

Hot and Spicy Grilled Pork Chops

Tone down the heat by pairing this pork chop with a Belgain Saison wine or New Zeland Sauvignon Blanc wine.

Chili-Rubbed Salmon Fillets

Pair this flavorful chili-rubbed salmon with a wheat beer or Moscato wine.

Grilled Hawaiian Volcano Pizza

The sweetness of the pineapple and savoriness of the pork taste delicious with an American Pale Ale or Torrontes wine.

Grilled Romaine with Red Root Vegetables

The goat cheese in this salad pairs with an American Wheat beer or Sauvignon Blanc wine.

Grilled Salmon BLTs

This salmon and bacon sandwich pairs perfectly with a Lager or Pinot Noir wine.