Primary Media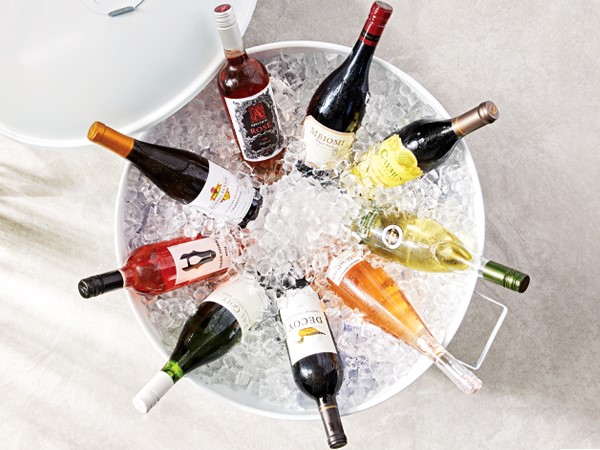 Description
A well-paired wine can make any meal more memorable. Learn how to complement your grilling with red wine, white wine, and rosés with help from the Wine & Spirits experts at Hy-Vee.
REDS

Lighter bodied red wines, like Pinot Noir, are prized as sipping wines but can also work well with lighter fare like turkey or pork.

Medium bodied reds, such as Malbec or Merlot, are extremely versatile and will match a variety of foods.

Fuller bodied reds, like Cabernet Sauvignon and Syrah, can be bold and rich. They pair well with beef or lamb.

Josh Cellars Cabernet Sauvignon

Decoy Cabernet Sauvignon

Caymus Napa Cabernet Sauvignon

Meiomi Pinot Noir

Meiomi Pinot Noir is aged for 6 months in French oak barrels, creating notes of berries and toasted mocha. Try it with brats and pork chops.

WHITES

Light, crisp, and dry whites, like Sauvignon Blanc, or Pinot Grigio are perfect for seafood and salads.

Fuller bodied whites, like Viognier and Chardonnay, are great for pairing with poultry and pork.

Sweeter whites, like most Rieslings and Moscato d'Asti, work well with fruity desserts like grilled peaches.

Joel Gott Pinot Gris

Kim Crawford Sauvignon Blanc Marlborough

Kendall-Jackson Vintner's Reserve Chardonnay

Rombauer Carneros Chardonnay

As you enjoy your chicken, lobster, and cream sauces, taste the creamy peach and pear flavors of this white wine.

ROSÉS

Rosé wines can be sweet or dry, still or sparkling. 

Tavel rosé is a dried style but fuller bodied and a great match for slightly bolder food pairings. 

Sweeter styles, like White Zinfandel or Pink Moscato, appeal to the sweet tooth.

Apothic Rosé

With notes of strawberry and raspberry, this wine is best enjoyed with tuna, salmon, and poultry.

Gerard Bertrand Cote de Rosé

This wine's fresh flower aromas go great with fresh cheeses, salads, and seafood.