Primary Media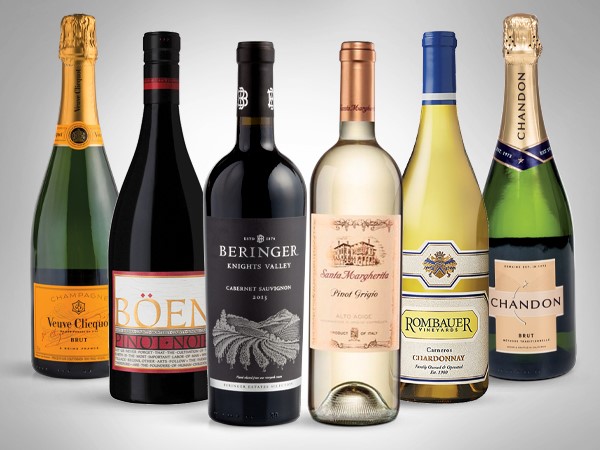 Description
These white, red, and sparkling wines were made for joyous occasions like your engagement party, bridal shower, and wedding reception! We've categorized them based on your budget, so you can drink the best wine at any price. Your local Hy-Vee Wine & Spirits experts are standing by to help you choose the perfect wine for your event!
Minimum Budget

Red:

Apothic Red Blend: This wine features bold flavors of rhubarb and black cherry, with notes of mocha, chocolate, brown spice, and vanilla. Its silky-smooth finish makes it easy drinking for all wine fans.
14 Hands Hot to Trot Red: Guests will marvel at the deep plum color of this Washington State wine. You might pick up on hints of clove, blackberry, and almond as you sip the award-winning blend.

White:

Dark Horse Chardonnay: Enjoy a bold white wine that's not overly sweet and delivers strong oak, butter, and vanilla flavors.
Souverain Sauvignon Blanc: Rely on this crowd favorite for your wedding celebrations. Taste layers of melon, orange blossom, and honeysuckle with a subtle hint of lime zest.

Sparkling:

LaMarca Prosecco: This fresh Italian wine delivers a robust texture and delightful green apple aroma. It's perfect for wedding toasts!
Martini & Rossi Asti: One of the world's most famous wines, sip on a cool, low-alcohol glass with the perfect balance of sweetness and acidity.
Korbel Brut: Subtle apple and bright lemon flavors combine to create a dry and refreshing bottle of bubbly.

Mid-Tier Budget

Red:

Meiomi Pinot Noir: This red wine is delightfully aromatic, with lovely flavors of fruit and nutmeg. Allow your glass to breathe for a few minutes to taste a deeper fruit-jam flavor.
Josh Cellars Legacy Red Blend: Black fruit, red fruit, and oaky notes combine on your palate for a bold, dry finish with a good balance of acidity.

White:

Kim Crawford Sauvignon Blanc: See if you can taste the green apple, Asian pear, and pineapple notes in this slightly sour wine.
Kendall Jackson Chardonnay: If you're looking for the right balance of sweet and acidic with subtle but layered flavors, go with this chardonnay.

Sparkling:

Segura Viudas Cava: Citrus, tropical, and floral notes will blend on your palate with this distinctive, dry sparkling wine.
Mumm Napa Brut: This award-winning California wine will add an elegant feel to your celebration with its rich, lingering finish.

High-End Budget

Red:

Boen Pinot Noir: Smooth black cherry notes give way to bright red raspberry for a multifaceted tasting experience.
Beringer Knights Valley Cabernet Sauvignon: Soft and silky tannins create a plush mouth-feel, with many flavor combinations present, including dark red fruits and oak spices.

White:

Rombauer Carneros Chardonnay: If you like butterscotch and vanilla, you'll love this bright yellow wine! You'll also detect hints of mango, pear, and pineapple.
Santa Margherita Pinot Grigio: This wine was named among the top 1% of all wines in the world in 2017. It comes from Northern Italy and has a great blend of citrus, lemon, and grapefruit flavors.

Sparkling:

Veuve Clicquot Champagne: A beautiful gold-colored champagne, you'll love the rich vanilla and brioche notes accentuated by tiny bubbles.
Chandon Brut: Nutty flavors build to a nice dry finish of citrus and caramel notes.